Fox Valley Art show showcases extreme talent
Art students gain recognition and display their works in public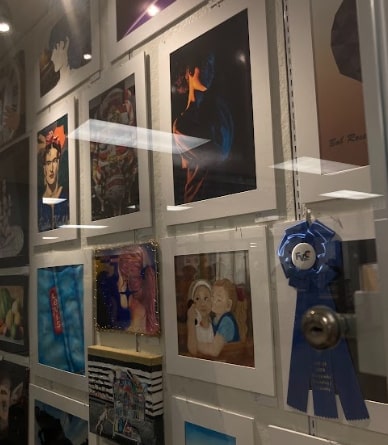 Lights dimmed, and a giant projector displayed the words "FVC ART SHOW 2023" in front of the seats. Student-artists, art teachers, and parents walk into the Leucht Auditorium at McHenry County College, excited for the award ceremony to commence.
The Fox Valley Conference Art Show on Thursday, April 14, exhibited a range of 2D and 3D artworks ranging from ceramics, digital photography, painting, drawing, mixed media, sculpture, jewelry and graphic designing.
Various FVC art teachers in schools ranging from Cary Grove, Crystal Lake Central, Crystal Lake South, Dundee-Crown, Harry D. Jacobs, McHenry East, McHenry West, Prairie Ridge, Hampshire High School, and Huntley were prompted to choose multiple students' artwork that purposefully explored the contents of their genre. Art students' work was displayed in the Epping Gallery from April 5 to April 16. Throughout the evening, numerous Huntley High School students were awarded for their outstanding effort in their artwork.
Some of the awardees from Huntley included senior Alexis Cobb, who won a honorable mention with an award of excellence for her digital photography titled "Grief," senior Linden Luangnikone, who won a honorable mention for her piece "Bad Egg," and Diana Martinez for "Abstract Flower" in the Ceramics category.
After the ceremony, attendees were prompted to walk to the gallery to view the beautiful artwork, carefully arranged in unique patterns.
"I really loved the artists' works [in] the show," sophomore Emily Kellas said. "They are all really talented."
Kellas came to the event to see her friend's work, which had been entered into multiple categories. She thought of this experience to be excellent because all the artists, no matter what piece they made, had true talent. Parents could also be seen viewing the art work at the event and students from various schools came to admire the effort put into the beautiful artwork.
"I love the show," sophomore Giancarlo Gordon said. "I did not plan on coming here, but I'm thrilled that I did because everything around me looks amazing."
The show aimed to pick out works of art that illuminated their concepts with an imaginative expression and displayed a particular meaning while drawing their audience to it. It seemed it achieved its goal as multiple audiences were fascinated by the works in front of them.
"I'm very honored to have received this award and I'm grateful to my photography teacher for encouraging me," Cobb said.
This was Cobb's first time being in the show as an awardee. She recalls this as a beautiful moment to encourage artists of any shape or form to keep striving for their passion.
The night was filled with art teachers congratulating students on recognizing their work and hoping this would be a gateway for more inspiration for each individual.