Even in the rain, these raiders shine
A classic midwest storm ends the varsity boys tennis game too early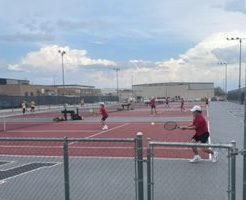 It's 4 p.m. as the boys varsity tennis team huddles up before they go up against their longtime rivals, Jacobs High School. Senior Ben Hein, a four-year varsity player, and varsity coach Barry Wells give the team a pep talk to stay on their toes and to go with the wind. They shout the traditional "RAIDERS" as the wind kicks up and get ready to meet their matchups. 
The tennis team has had a great season, with an overall 4-3 score as they start their conference preparations. However, with their big rival game, Wells is confident in the boys' success. 
"It's always a big match against them. We always get hyped up, for they're always our big rival," Wells said. "They got us the last couple years but I feel like we're pretty evenly matched. We've got a good chance against this day, and hopefully, we play well and get it done."
As the team from Jacobs arrived, the storm started brewing, but the teams continued on despite the impending weather. The teams met their matchups, and starting singles player freshman Will Geske shook hands with his opponent. Hein and his doubles partner, senior Jonathon Stec, shook hands with their starting matchups. After a quick 10-minute warm-up to get used to the winds, the competition started. 
Geske was quick to serve first and was powerful. Every hit was harder than the last. He scored the game's first point and did not hold back at all. His opponent could not keep up with his hits, and Geske ended the match overall without the opponent winning a game. 
"I'm happy with my performance today," Geske said. "I'm pretty confident and I feel like I can be the [singles] conference winner." 
Although the rest of the singles matches could not finish, Huntley had the upper hand against Jacobs overall. The singles fought, leaving it all on the courts. 
Hein and Stec had a more challenging battle. Their starting matchups scored the first point of their set. But the pair was not going down without a fight. Although Jacobs had the upper hand for a while, Hein had some powerful serves while Stec rallied just as hard. Both were dedicated to taking the first game and had great teamwork. 
"I'm not really nervous. I know my opponents, so I'm definitely ready. I feel like we're gonna win." Hein said. 
After a tough matchup and a little bit of rain, Hein and Stec won their first game with 7-5 score, forcing the game to go over to win by two points. As they started their second game, the coaches called for the match to end due to the imminent storm. 
Many hoped for the game to be postponed later, but once the lightning sirens started going from the high school, they ultimately decided to continue another day. 
Although the game ended too early to decide an overall winner, Huntley still went all out at this matchup. The rescheduled game does not have a date yet, but Huntley players are confident they will come out on top.