Heading to the next level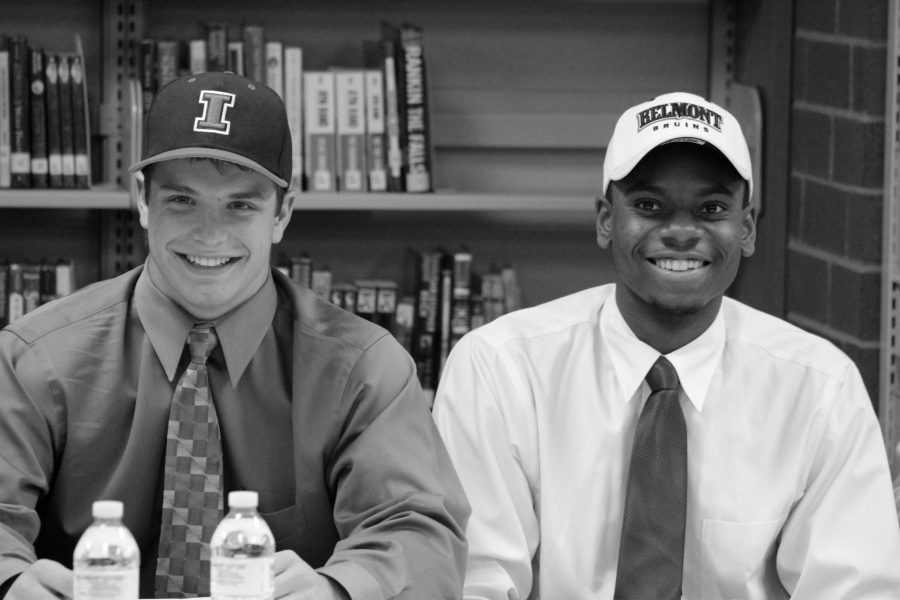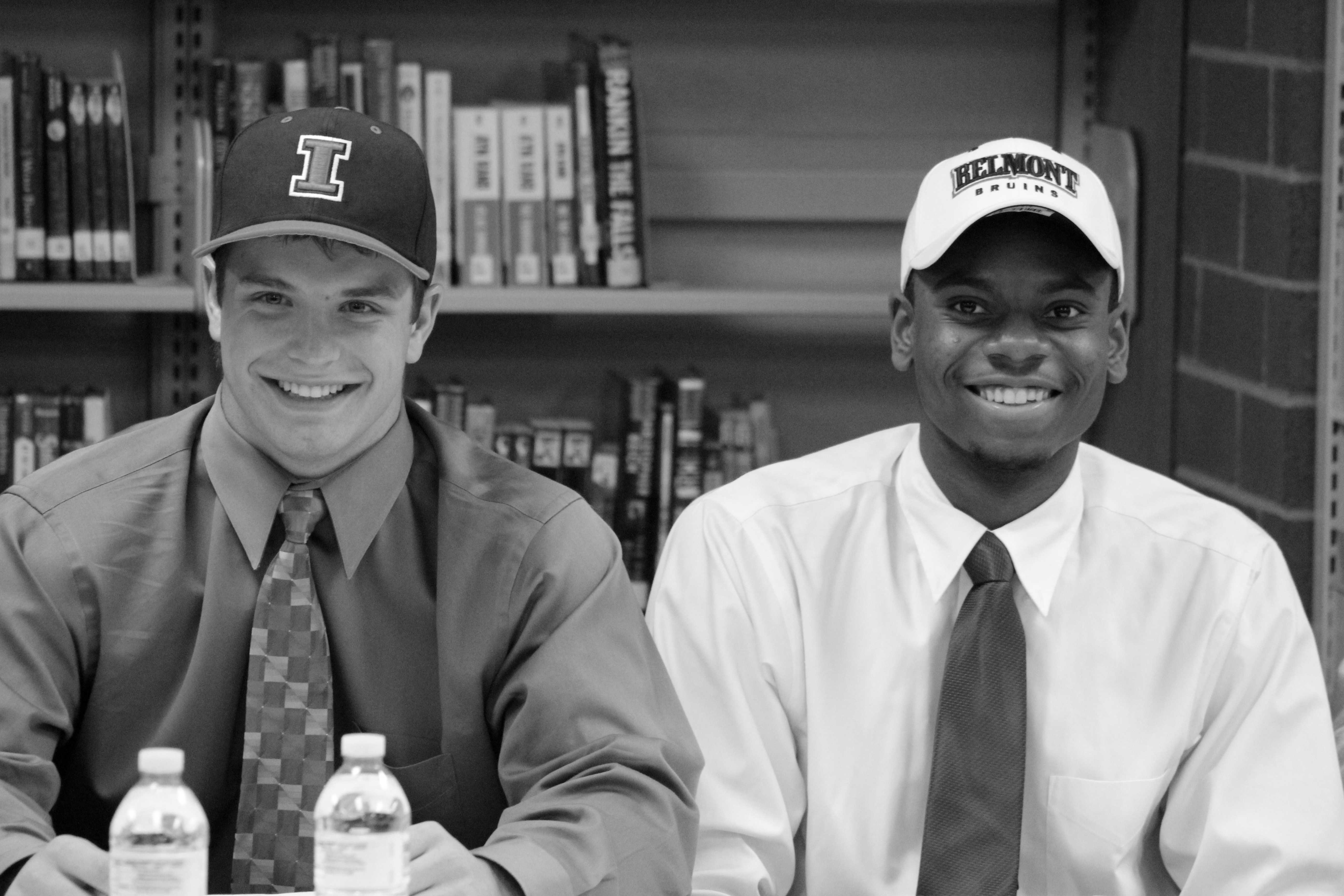 Ten individual baseball hats lined the edge of a long table covered in red and black wrapping in the back of Huntley High School's library. Parents, friends, and teammates crowded the small room trying to catch a glimpse of the table where Huntley senior student athletes each sat behind a designated hat. Their legs twitched nervously under the table, and many sipped at the water bottles placed to the right of their caps.
Athletic Director Michelle Jakubowski welcomed the crowd with a few kind words about the students on display, and then it was time. Pens ready, they all signed pieces of paper that had been itching for ink: their National Letters of Intent.
After the I's were dotted and T's were crossed, there was an uproar of applause. Hugs and smiles were exchanged.
The cameras started flashing as senior basketball star Amanze Egekeze's mother pulled out sharpies and a Belmont Bruins flag for friends and teammates to sign. There was a glow in his eyes as he walked around with the white Belmont hat on. Friends took it off of his head and began signing it.
"I chose Belmont because it had everything that I was looking for in a school. It's a great school academically. As far as basketball, they have one of the most respected head coaches in the country: Rick Byrd. They are a winning program and have been in the NCAA tournament six of the past eight years. They really wanted me and I have a chance to be an impact player right away. Nashville is a great city with great people and so much to do," said Egekeze.
Belmont University, located in Nashville, Tennessee, is composed of just under 7,000 students. Belmont competes in Division I basketball and has made the NCAA Tournament six out of the last eight seasons and three seasons in a row.
"There was a little bit of pressure to make the right choice quickly because most of the bigger schools that were on me before my knee problems kind of started to move on," said Egekeze.
Last year, Egekeze underwent a knee operation for tendonitis performed by surgeon Brian Cole, who operated on Chicago Bull Derrick Rose.
"Belmont offered [Scholarships to] me and two other kids, but they told us there were only two spots available. I knew the opportunity I had with them and didn't want to risk losing it to the other guys, so I felt comfortable committing right away," said Egekeze.
Next to Egekeze at the table sat senior Mark Skonieczny, who is headed to the University of Illinois at Urbana-Champaign next fall for baseball.
"There was a lot of pressure to make sure that U of I was the correct fit. The thing that made me ultimately chose Illinois was the great coaching staff they have there. The opportunity to play for a school in the Big Ten was impossible to pass up. I am truly blessed to have the opportunity to play for a Big Ten school. Also what drew me to Illinois was the academic opportunity they have to offer. Illinois is a perfect fit for me and I can't wait to have the opportunity to compete," said Skonieczny.
In true athletic spirit, many athletes walked out their door with their parents and then proceeded to go to practice.
2014 College Commitments
Baseball Mark Skonieczny: University of Illinois Eric Luecht:Lewis University Matt Sullivan: Chicago State Brendon Fitzgerald: Purdue-Calumet Nick Constantino: Drury University Johnny Nugent: Harper Junior College Roy Cantu: Illinois-Springfield
Basketball Amanze Egekeze: Belmont University Samantha Andrews:Truman State Bethany Zornow: Judson University
Soccer Abby Nordeen: Minnesota State Delaney Loprieno: Northern Illinois Jessica Galason: Illinois state Beth Parks: Colorado State Rachel Zobott: Illinois-Chicago Sam Morin: Illinois Springfield