Huntley volleyball remains undefeated
The lyrics "bring 'em out, bring 'em out," blast over the speakers as the varsity volleyball girls team runs into the gym. Team captain and setter Taylor Jakubowski has her mind set on two things; winning the match as a team and having fun doing it. The energy levels are high as the girls warm-up for what would be a two-set win against McHenry High School.
The girls won 25-17 in the first set and 25-15 in the second set to continue their undefeated streak of 14-0. Apparent throughout the match, the team holds strong chemistry as they were able to communicate with each other effectively in order to pull out a win.
Huntley gave up the first point of the match, but followed it with a quick six-point streak leading the McHenry Warriors to call the first timeout. This did not frazzle senior Kylie Jenkins, as she continued to successfully get her serves over the net three more times before McHenry could get another point. The girls continued to fight for their win through the remainder of the first set.
Taylor Jakubowski commented on the team's performance during the first set. 
"I think we were a little rocky at the end of the first set, but I thought we did a great job communicating and having more chemistry," Jakubowski said.
During the second set, Huntley and McHenry get to a point in which they are neck and neck. The score tied at 2-2. Then again at 4-4. And again at 5-5. Both teams were giving their all. Huntley was able to break the pattern and pull ahead with a quick four points. 
The varsity head coach, Karen Naymola, had the team prepared. Before the match, they practiced blocking and changed some of the players' positions in the offense, giving their competitors a little surprise in the match. 
"Competitors start to know your tendencies and what you are running, so we have some different options going forward with our offense," Naymola said.
The practice Naymola spoke of showed throughout both sets against McHenry. Players such as Katelyn Bower and Ashley Konecki had multiple successful blocks. 
Naymola commented on what she thought about her team's performance throughout the match.
"I thought we played well. McHenry is always a very scrappy team on defense, so it was nice to see us come out and compete and play to win. We know every game we play is going to be a challenge and every team is out to beat us, so we just have to come out strong every single game and play our game," Naymola said.
The girls have won every match this season so far. They hope to continue their undefeated streak as the season goes on.
Hang on for a minute...we're trying to find some more stories you might like.
About the staffer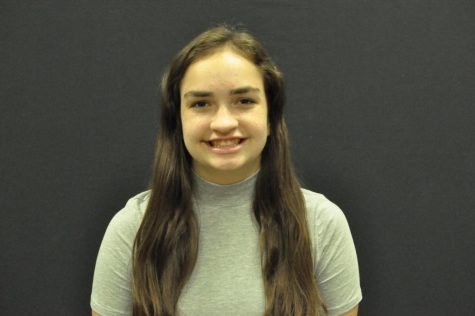 Lindsey Leigh, staff writer/photographer
Lindsey Leigh is a first-year writer and photographer for The Voice. She has traveled to 22 countries, lived in Singapore, and plans on visiting more. In her free time, she likes to watch movies, dance, and spend time with her friends. She also enjoys volunteering and photography.