Hot off the Dress!
There are a select number of stores and fashion outlets that are popular among teenagers. In the Huntley area, the obvious Algonquin Commons and Woodfield Mall provide places for younger crowds to splurge at, such as Tillys, Forever 21, and Pacsun.
Personally, I feel as though online shopping is completely underrated. Here's why:
By online shopping, you can find unique items that you typically can't find in physical shops. Many online boutiques sell clothing from smaller manufacturers. This does not necessarily indicate that the quality of the clothing isn't any less though.
"Shein [a popular online store] is so cheap and the quality is decent. I've got a sweatshirt, some shirts, and a skirt," sophomore Alyssa King said. "I got a shirt from there for $2 plus shipping, it was so soft. It took a while to ship though."
Many online stores, such as Shein, Boohoo, and PrettyLittleThing offer trendy items that are extremely cheap in price. The only downfall would be paying expensive shipping, which can often be eliminated if you spend a certain amount on the website. 
Some of these stores not only sell clothing, but also bathing suits, shoes, and accessories. 
"It's easier to find my style online because most out here don't carry it. Also, they carry more clothes and more sizes online," sophomore Hailey Roe said. "I shop at American Eagle and southern boutiques such as Pink Coconut and Southern Trends Boutique."
Other than clothes, some of the cutest bathing suits I've found online are from the website Zaful. There is a huge variety, but unfortunately, the top and bottom must be ordered in the same size.
My all time favorite online boutique to shop at is Princess Polly. They have a collection of adorable dresses and clothing for every occasion. I have shopped there for festivals such as Lollapalooza for an extremely cheap price. This website is my favorite place to purchase from in the summer.
By shopping online, my outfits are unique. Many of the items found online are rarely found in stores. Shopping online can simply be more convenient, and less of a hassle!
About the staffer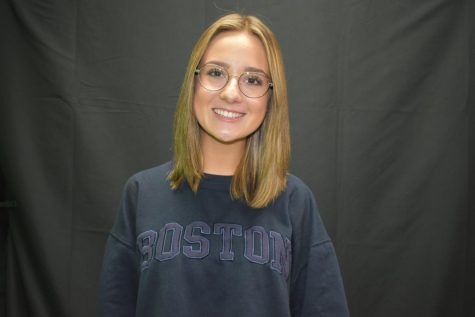 Amelia Pozniak, floating editor
Amelia Pozniak is a floating editor for The Voice and it is her first year on staff. She is a manager for the Huntley JV wrestling team and likes to meet new people. In her free time, Amelia loves to play the ukulele, listen to music, and spend time with her friends and family.