Huntley reclaims the Fox Valley Conference title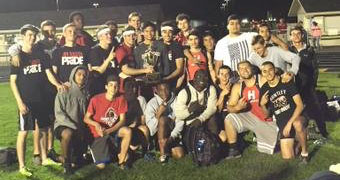 Friday night at Crystal Lake South, the Huntley Red Raiders' boys track team overcame injuries to continue their dominant season. After winning all of their invitationals, including the McHenry County Meet that featured most of their conference opponents, the Red Raiders won their second Fox Valley Conference title in three years. The Raiders scored 111 points, with Cary-Grove finishing second with 98 points.
The meet started behind the track with the field events. In the shot put, seniors Chase Burkart and Isaac Jimenez placed fourth and sixth respectively to start the meet off strong. Jimenez came back to finish fourth in the discus, one spot behind junior teammate Tim McCloyn. Seniors Mitch Deem and Lucas Auchstetter finished sixth and seventh in the pole vault. Sophomore Larry Oladipo's fifth place finish in the high jump and junior Sean Patel's second place finish in the long jump helped the Red Raiders gain an early lead.
However, the running events would be tough for Huntley. Top hurdler Brennan Bell was injured prior to the meet and could not compete in either the 110 high hurdles or 300 meter hurdles. In order to make up for his absence, the Raiders needed other runners to step up and earn points. The 4×800 team started things off strong, with senior Elijah Green and juniors Keagan Smith, Mike Grocholski, and Zach Hollman combining for a tough fourth place finish.
The 4×100 was where the meet seemed lost. Although the relay of seniors Donovan Young, Aasem Awwad, Connor Boos, and junior Brendan O'Donnell won the race and set a conference record, Awwad suffered an injury that prevented him from running the 100 and 200 meter dashes. Awwad's injury took a potential third or fourth place finisher out of contention in two races and looked to be devastating to the Raiders' hopes for a team title with Bell already out of the meet.
Huntley managed to sneak out a few points in both hurdle races even while missing their best hurdler, and they held a narrow one point lead over Cary-Grove heading into the 1600 meter run. Smith ran a blazing 4:21 to finish second and fellow junior Seth Conroy passed an astounding seven people in the last 400 meters to widen the gap between Huntley and Cary. Boos' second-place finish in the 200 sealed the Raiders' title.
Overall, the Raiders had an extremely successful meet, managing to win the conference title while only winning a single event and missing two of their top runners. Huntley had an All-Conference finisher in every single event except for the 800 meter run.