Huntley boys basketball preview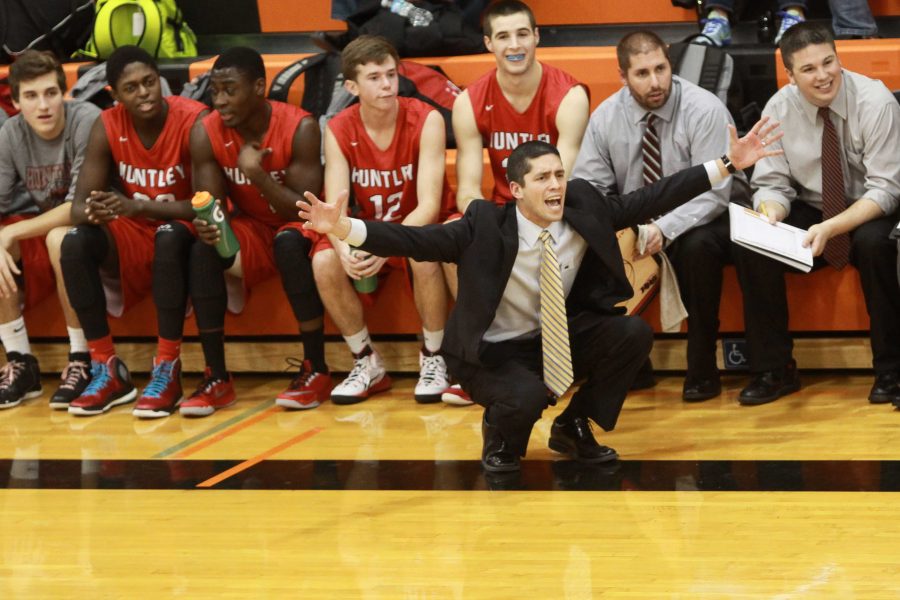 It may be varsity boys basketball head coach Will Benson's second season as the leader of the program, but it feels an awful lot like his first season. With only one starter back from last season, Benson has almost an entirely new team on his hands. Coming in, Benson inherited a senior loaded roster from former head coach Marty Manning and didn't change much right away. His man to man defensive principles are very similar to Manning's and he ran the same five out offense that Manning ran his last year at Huntley.
In his second year at Huntley, Benson hopes to keep balance keeping his team in their comfort zone as well as adding new wrinkles to the team's offense.
"We ran a five out offense last year and that is one aspect of our offense this year," said Benson. "It is something the kids like to run and feel comfortable doing. We are going to do a ball screen transition that we haven't really done before that I think we are pretty good at right now but I think that is something that fits this group and the group behind them."
Keeping with a five out style offense is something that really makes sense for Huntley. Huntley's frontcourt rotation is composed of seniors Makomborero Tizora and Kyle Nwogu, and junior Olalere Oladipo. These three big men can all make shots within 15 feet and have decent ball handling abilities, while Tizora is even a proficient three point shooter. Having big men who have decent range is critical in a five out offense, making Huntley's roster a perfect fit.
One of the keys of Huntley's success this year however should be their backcourt. Sophomore Jadrian Flores was a standout at the varsity level his freshman year and his improvement as a player will be a big part of how well Huntley performs this season. Joining him in the starting lineup will be senior Danny Spoeth and junior Michael Parks. Flores will be the only player in the backcourt with substantial varsity experience making Huntley's guard play unpredictable and likely to change throughout the season.
Last season, Huntley posted a 12-19 record (4-6 FVC). Look for them to post a slightly lower total, closer to 10 wins due to the extreme lack of experience on the roster. The Raiders figure to have a similar trajectory as they did last season: Start slow as the team learns how to play together on the varsity level, and improve throughout the season. This should be another rebuilding year for the Red Raiders as Benson shapes the program for the future, but it doesn't mean Huntley can't be completive in the Fox Valley Conference.
This trajectory lines up with the goals Benson has set for his team this season.
Our goals are the same every year, you just want to improve, "said Benson. " We just have to figure out how we are going to be successful. I just want to work hard every day and continue to improve week in and week out. "