Christmas Countdown in the Kitchen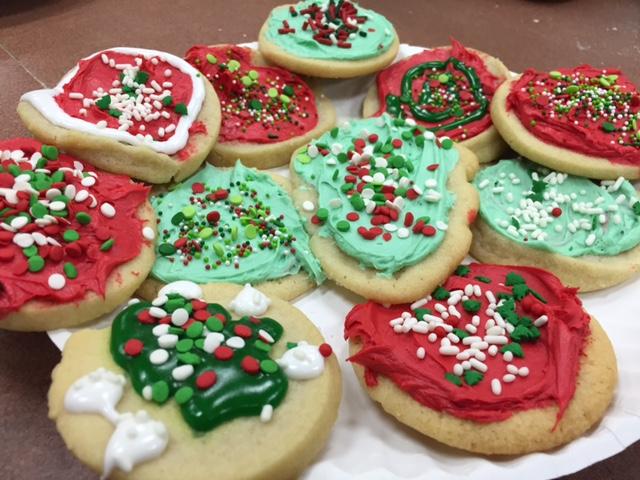 The familiar scent of Christmas cookies filled the air on Tuesday afternoon as members of the baking club participated in their annual cookie-making extravaganza.  The event, which was held in the foods room after school, was full of Christmas spirit as the bakers made three types of cookies: sugar, snowball, and snicker doodle.
The party was split into two days, Monday and Tuesday, because there were so many students in the club. According to Valerie Lindquist, sponsor of the club, there are two groups (A and B) that meet on separate days. In the first meeting alone, there were around 56 students.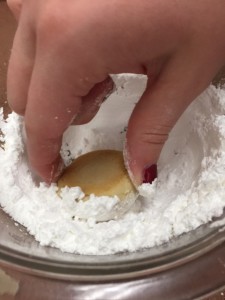 "Group A had about 28 students and group B had about 12 students show up to the cookie making," said Lindquist.  "It's a great opportunity to invite friends and hang out."
The students divided into their cooking stations, where they began by making classic sugar cookies, topped with red and green frosting and a variety of sprinkles.  Next up were snowball cookies, which are butter cookies rolled into balls covered in powdered sugar.  Lastly, the bakers made snicker doodles, with the smell so good, it attracted teachers from down the hall.
Although all of the cookies were a hit, it seemed as though the sugar cookies were a favorite among the whole class.
"I like the smell and the flavor of the sugar cookies, plus the way they melt in your mouth," said freshman Erik Ramos.  "It's fun to have the different cookie cutters and make whatever shape you want."
The students were offered hot chocolate and marshmallows, and decorated their three cookies while listening to Pandora Christmas carols.
Although this is only Lindquist's second year as the club sponsor, she said that the Christmas cookie-making is always an event that a lot of students participate in.
"Baking club is all about relaxing, having fun, learning different baking techniques, and of course eating your successes," said Lindquist.  "We have different themes and then we make an appetizer, main course, and dessert to go along with that particular theme."
Next up on the menu is Pinterest Discovery, Valentine's Day cupcakes, and Mexican food.  Baking club meets on Mondays and Tuesdays in room E-1101 for planning and room E-1104 for baking.  Their next meeting is on Jan. 11, where they will plan for their Pinterest Discovery baking day.