The year is almost over and we are approaching New Year's Eve. That means the College Football Playoffs are set and ready to go. This will be the second year now that we have a College Playoff. Four teams will have to win 2 games to be crowned the National Champions.
Last year, Ohio State slid into the final four in the last week of the season. Ohio State went on to win the first ever College Football Championship. This year, the winners of the four spots came down to the last week. No one knew who was going to make it in.
Oklahoma had to face a talented state rival in Oklahoma State. They were able to beat the Cowboys 58-23. Despite beating the Cowboys, the Sooners were put at the four seed after a 11-1 season.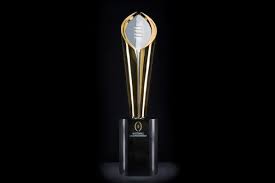 Michigan State had to face an undefeated Iowa in a win-or-out game. Despite missing two field goals, the Spartans were able to beat Iowa 16-13 on the last possession. The 12-1 Spartans had a wonderful season, including a win over defending champs, Ohio State. The Spartans took the three seed, leaving only two seeds left. Alabama had to take on 19th seed Florida in their last game of the season. Alabama was able to win 29-15 to clinch the number two seed. This was no surprise to anyone; Alabama is an elite team and has one of the best running backs in the country.  Alabama was able to finish the season 12-1, only losing to Ole Miss  in Week 3. At that time, Ole Miss was ranked in the top five, so this loss did not affect Alabama in the standings.  The Number one seed belongs to the Clemson Tigers. They dominated this year with a 13-0 record. They defeated North Carolina 45-37 in their last game and look to continue their undefeated season into the playoffs.
If I had to pick a team to win, I would pick the Tigers. They looked good all season and have tremendous talent and confidence.
Anything can happen in the playoffs. We only know one thing: one of these teams will be walking away champions.