Huntley cheer caps off best season in school history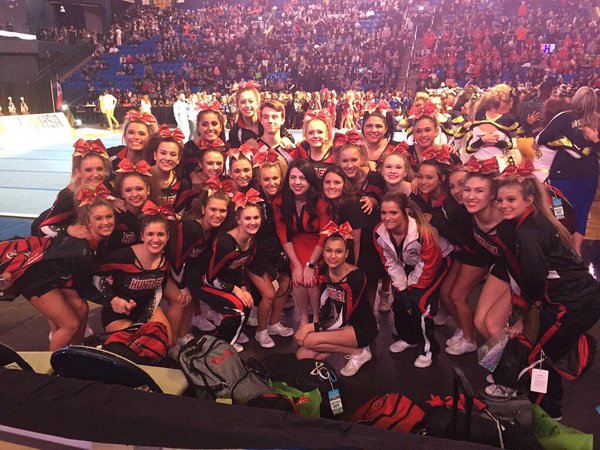 Huntley's varsity cheer team wrapped up another successful season during the IHSA state meet at the U.S. Cellular Coliseum in Bloomington, Ill. The Raiders finished in sixth place among 25 teams in the large team division with a score of 89.93. Drastically improving upon their 14th place finish from last season.
The Red Raiders began their competition season by continuing their dominance of the Fox Valley Conference. Huntley won its fourth consecutive Fox Valley Conference Valley Division title at the FVC Cheerleading Championships at Cary-Grove High School on Jan. 18. The Raiders scored an 89 to narrowly beat Jacobs and Dundee-Crown, who scored 88.75 and 82.58 respectively.
Next for the Raiders was the IHSA Sectionals held at DeKalb High School on Jan. 31. Their conference victory made the team confident that they could have a great performance at sectionals, but it also gave the team things they could work on over the next week.
"Winning boosted our confidence," said senior Alex Shafer. "We didn't hit our routine perfectly at conference, so it gave us motivation at practice to look perfect at sectionals."
Huntley's routine was virtually flawless, landing everything perfectly and displaying impressive athleticism. The Raiders dominated sectionals winning first place with an impressive score of 91.17. Beating runner-up Wheaton North with a score of 89.83. Huntley's sectional championship ensured that they would have a spot in the preliminary round of the IHSA State Final on Feb. 5.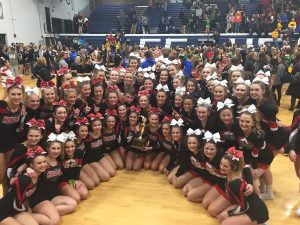 Leading up to the state meet, the Raiders did not change much, continuing to rely on the practice strategy that had taken them this far. The changes they did make were minor, mostly just revolving around focusing more on perfecting their routine.
"We just continued to have fun. This group comes to practice every day and works hard and pushes themselves to get better," said head coach Renee Fowler. "Their attitude is what made this year so successful for us. They are motivated, determined, and had some fun along the way."
At the state meet, Huntley once again put on a fantastic performance. During the prelims, the Red Raiders hit zero, meaning that they had zero points deducted from their score. Their score of 89.93 was enough to put them in sixth place at the end of the first day, advancing them to compete on day two of the state finals.
Day two saw the Raiders continue to perform up to their high standards. Although they didn't score as highly as they did during the prelims-putting up a score of 89.73-they maintained their sixth place finish to cap off the best season in Huntley history.
For Huntley's seniors, their performance at state was a great way to end their high school years. They leave Huntley as the most successful class of cheerleaders yet, with four Fox Valley Conference championships, a sectional championship, and a sixth place finish at state.
"This is really exciting because we finished our final season with such great accomplishments," said Shafer. "I really couldn't ask for anything more."
Although the seniors will surely be missed, they have left behind a great legacy for the rest of their teammates to follow.
"They left big shoes to fill, but looking at our returning athletes for next year, Huntley cheer is full of promise and I am so thrilled to see what lays ahead for them," said Fowler. "The legacy begins with our top ten finish and I am confident that it will only get better for Huntley cheer."