After a long wrestling season, four of your Huntley Red Raiders reached their goal of going to the IHSA State Finals.
The journey began at the Fox Valley Conference meet, where Zach Spencer, Josh Stenger, Joey Armijo, Brad Zbilski, Juan Quiroz, Christian Olivera, Petros Mihalopoulos, and Dominic Swanson placed well to begin their postseason. The Raiders won the conference meet for the first time in school history.
The journey did not end there, as the Raiders headed to regionals. At regionals, Spencer, Quiroz, Zbilski, Olivera, Mihalopoulos, Swanson, and Stenger were able to advance to the sectional meet.
"I worked really hard this season working on my form and techniques, and it paid off," said Zbilski.
Sectionals was held at DeKalb High School. For some, reaching sectionals is their goal for the season. For the Red Raiders, the sectional meet is merely an obstacle in the road of their true goal: state. Swanson, Spencer, Stenger, and Mihalopoulos were the Huntley wrestlers who qualified for the state finals in Champaign.
"Going to state has been a goal for me ever since I started high school, and to do it my senior year is even better," said Mihalopoulos.
"I have been to state before but I think this is my year to shine. I have a tough road ahead of me, but I am always up for a challenge," said Stenger.
State was this past weekend, and although it was not the greatest performance, it was a good season. Swanson was knocked out first round 4-3. It was a hard loss for Swanson, but a great season for him.
"Although I did not end the season how I wanted, I thought I had a wonderful senior season and I'm glad I got to spend it with all of my teammates," said Swanson.
Mihalopoulos was also knocked out first round. Two tough loss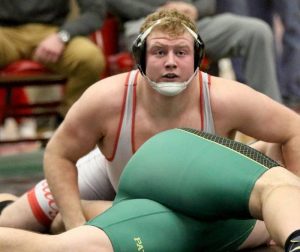 es for Huntley, but they had two more wrestlers to go. Spencer made it past the first round, as did Stenger.
"I was very excited to take the first round in state, it was a good accomplishment," said Spencer.
Spencer lost in the second round but had a very good season and accomplished a lot this year. Stenger won both the first and second round. He lost his last two and took 4th in state.
"Although I did not win like I would have liked, 4th in state is pretty good I'll take it any day. I am very proud of myself and I will be back next year," said Stenger.
"I am very proud of my boys this year, this year was a very good year. We did something we have never done before. I am proud of all of my wrestlers and I know my seniors left everything they had on the mats. For my returning wrestlers we need to work hard in the offseason and come back even better next year," said Coach Bertelsman.