Huntley boys swimming ends season with sectionals loss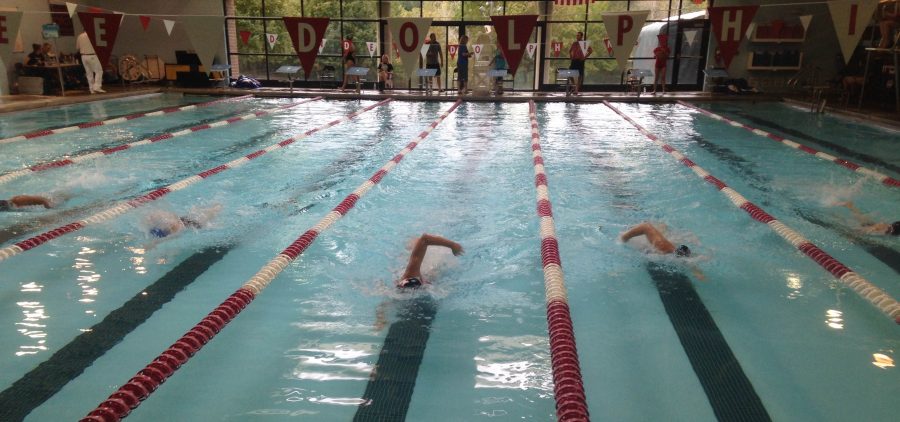 The Huntley boys swimming team finished their first season under new coach Brenda Czarnecki with a 12th place finish out of 13 teams at the St. Charles North Sectional, one of the best sectional regions in the state. St. Charles East won the sectional for the second time in three seasons, squeaking out a 284.5-232 victory over the hosting St. Charles North team. St. Charles East was led by standout freshman Matt Nagler and had many of their swimmers qualify for the state tournament the following weekend.
There was also a diving competition which Huntley did not compete in. Their practice facility at Centegra does not have anywhere for them practice diving, so Hutnley has never competed in these events.
After their coach George Keenan resigned during last year's season due to a dispute with athletic director Chris Rozanski, the team saw their varsity roster diminish in size considerably.
This season's varsity team had 9 swimmers on the roster, and only 4 seniors. For senior swimmers Aaron Vandy, Dillion Gaynor, Thomas Gaudio, and Quinn Landoch, this was their final meet, as no one from Huntley qualified for state.
This was a rebuilding year for Huntley, but it was not all bad. They did win one dual meet, with their overall record being 1-3 in dual meets during the season.
Senior Aaron Vandy realized that although Huntley did not have a ton of success this season, they will be in a much better spot next season.
"Overall, I thought it was a good season given the small size of our team," said Vandy. "It sets the team up pretty well for next year."
Look for Zach Michaels, Alex Haiges, and Marco LoPicolo to step up next season and become leaders on the team with the seniors graduating.