Huntley Crowns a New Mr. HHS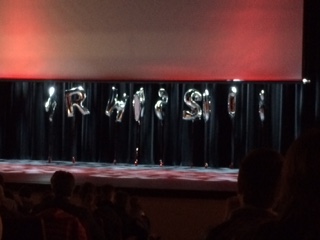 The brisk winter air transitioned to a warm, laughter filled air on Wednesday March 2 as guest eagerly waited in the PAC for the annual Mr. HHS pageant to begin. This Student Council production is used for male students to showcase their talents, fashion sense, and comedic and witty responses to series of questions. The grand prize is to win a free tuxedo and two tickets to this year's Prom.  
Contestants included junior Zack Whitaker, senior Matthew Cannalte, senior Zaib Haider, junior Chris Leon, senior Carlos Aldape, junior Dakotah Henn, senior Brennan Sorkin, and senior Joey White. Those determining the boy's fates that evening were Principal Scott Rowe, the Livingood's, Associate Principal Shelly Kish, and Deans Tom Kempf and Chris Duncan.
The night started off a little after 7 p.m with a picture slideshow of each contestant and soon followed by swim wear. As each contestant made their way down the "runway" towards the hosts, popular dance songs played over the intercom. After many sarcastic and witty comments about Kanye West and Zayn's newest single, the next category. which was Talent, began.
Each person had their own schtick and way of hyping up the audience. However, with a couple routines there was a trend. That trend was Drake's hit song "Hotline Bling." Zaib Haider began rapping this caribbean like tune and then a dance by Chris Leon was followed minutes later to the same track. Both performances brought liveliness to the stage and the crowd enjoyed it all.
Other talents included  Matthew Cannalte showing off his impressive math skills and Joey White playing the Super Mario Brothers theme song on the piano. Then came spirit wear, formal wear, and awards.
By this time, the guys had answered various questions about the world, their personal lives, and being a Red Raider. They had shown the judges the best of themselves and now it was the crowning ceremony.
Those who won smaller awards were Zack Whitaker with the spirit award, Joey White with the "Most Talented" award, and the "People's Choice" award went to Joey White as well. With a rolling drum produced by the audience the first runner up and Mr. HHS 2016 were announced. First runner up was Dakotah Henn and the new Mr. HHS is now Joey White. All the boys did an exceptional job and till next year boys, keep living the Raider Way.
Hang on for a minute...we're trying to find some more stories you might like.