Huntley boys cross country team looks to make history, qualify entire team for state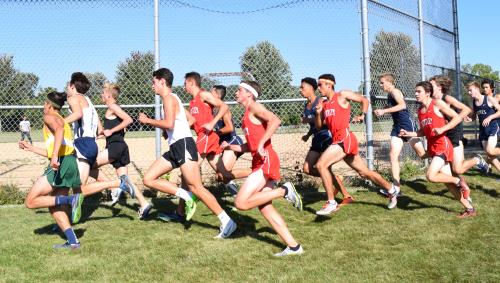 With fall sports coming to an end and winter sports soon approaching, Huntley's boys cross country team is wrapping up their season. Soon heading down to Peoria, Illinois for the IHSA regionals on Oct. 21, the boys were a force to be reckoned with this year.
Starting off strong with their first meet at Emricson Park in McHenry, the team came in first place, receiving 38 points; for most of the season, Huntley stayed in the top 5 places. Their hard work didn't go unnoticed.
Fast forward two months, the boys made it to the Fox Valley Conference. With a weekly winning streak under their belt, head coach Matthew Kaplan was expecting great things from each runner.
"Josh Segura and Rasheed Ahmad were two people who joined the top seven this season," Kaplan said. "[They] made a huge impact on our team performances."
Their impact was great enough to have lead Huntley to victory when on Oct 14. at the conference, the boys took home the first place title; this was the first time it has happened in Huntley High's history.
"I'm expecting our strong performances to continue," Kaplan said. His aspirations for the team are bound to happen.
With regionals this weekend, Oct. 21, Kaplan has confidence in the team's abilities to excel beyond current races.
"The season goal has been to make it to the state meet as a team," he said. "We'll look to do that at the sectional next week."
According to Kaplan, juniors Jadon Conroy and Jeremy Roe, in addition to sophomore Ian Geisler, have been leading the team at each meet due to their success last season.
"Other meets helped me improve our pack running ability," Geisler said. "Having this leadership experience will help out the team."
Kaplan only sees a positive outlook for the boys as Geisler and the younger runners continue on.
"The success of this season will be something for future teams to aspire to," Kaplan said. " "[Future teams will aspire] because of all that was accomplished [this year.]
Hang on for a minute...we're trying to find some more stories you might like.