Two Teams, One Victor: Sep. 14 Football Game
On Sep. 14, the Huntley Red Raiders and Cary-Grove Trojans went to war. Both teams entered the fourth week of the season undefeated, and both teams hoped to keep it that way.
The previous week, Huntley had a huge win over Prairie Ridge, ending the team's 30-game winning streak, and their first win over them since 2013 with a score of 35-28. Cary also had an exciting game the week prior with a massive 49-0 blowout over Hampshire.
Going into the game the two teams knew a win was not going to come easy.
"I think it's going to be a really good game between two really good programs," said assistant football coach Paul Reinke.
The tone was set early on during the first play when a late hit from Cary got them called for unsportsmanlike conduct, thereby giving Huntley a first down. Not long after, however, Huntley lost the ball and Cary recovered it. This was followed by a quick touchdown under two minutes into the game.
Huntley's responding drive was lacking, and ended with a punt.
With 8 minutes, 37 seconds remaining in the first quarter, Cary had a run that was called back due to a block in the back. Despite this, their drive continued and ended with a touchdown and successful point after said touchdown.
A nice reception for a first down by Huntley felt like it could be what they needed to get going, but the drive ultimately ended with a punt.
During the following drive, the Trojans had back to back plays that resulted in first downs, before Huntley's defense shut them down, leading to a Cary punt.
Huntley got their offense going a bit with a pair of much needed first downs to end the first quarter. The score after 12 minutes was 14-0 with Cary in the lead.
Going into the second quarter Huntley was forced to punt, but soon got the ball back after a couple of nice plays from their defense. The Raiders capitalized on their defense's resurgence with a long ball into the red zone and a touchdown, but the post-touchdown point was blocked. The score remained at 14-6.
Cary responded with a colossal run for a touchdown but was called back due to a flag; this was inconsequential, though, because Cary ended up scoring just a few plays later.
With minimal time remaining in the second quarter and a 15 point deficit on their hands, Huntley needed a good drive, and that's exactly what they got. Four first downs and a touchdown put them into striking distance.
The ensuing drive Cary marched down the field, capping off the first half with a spectacular catch for a touchdown, putting them up 28-12 at halftime.
The Trojans received to begin the second half, and their drive lasted almost eight minutes. They eventually scored with 4 minutes, 9 seconds left in the third quarter, widening their lead to 23 points.
Huntley was once again determined to answer with a touchdown of their own, with back to back first downs. This momentum was quickly bottled up due to an interception.
The Raider defense prevented Cary from putting more points up on the board, and due to a wild snap on the punt Huntley was put in excellent field position at the end of the third quarter.
Huntley took advantage of this with a touchdown and a two-point conversion, bringing the lead back down to 15 points.
The remainder of the fourth quarter consisted of Cary running the ball and a failed drive by Huntley. With that and a couple of knees from Cary, the game was over, 35-20, the Trojans emerging victorious.
Huntley was confident coming into it, but did not play up to their potential during the game.
"It just fell off the wagon, both sides of the ball didn't come out how we should have," varsity linebacker Rukkus Hunkins said. "We are going to take this as a learning opportunity and come back stronger than ever now that we know what to work on."
About the staffer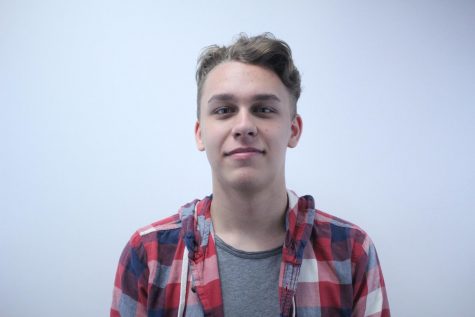 Austin Stadie, business manager
Austin Stadie is a second year staff writer and the business manager of The Voice. His interests include politics, sports, and music, all of which he writes about frequently.