Get to know the music artist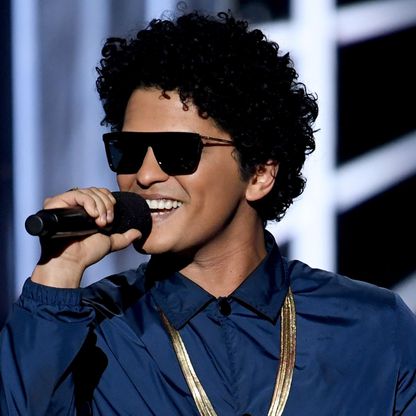 Bruno Mars is an American singer and songwriter. Mars's music is under the genres of contemporary rock/pop, pop, and contemporary R&B. According to All Music, he is mostly known for his pop music, which often featured upbeat lyrics, blended different genres, and had a retro quality. Mars is known for his album, "Doo-Wops and Hooligans," released in 2010, which included Grammy Award Winning song, "Just the Way You Are," and also, "Grenade." He is also known for the Grammy Award-winning album, "24k Magic," which included, "Uptown Funk," and "That's What I Like, and the album, "Unorthodox Jukebox," which included, "Treasure."
Mars was born on Oct. 8, 1985, in Honolulu, Hawaii. His birth name is Peter Gene Hernandez. Mars was exposed to music at a very young age. His father, Pete Hernandez, was a Latin percussionist of Puerto Rican extraction from Brooklyn. His mother, Bernadette Hernandez, was a Filipina vocalist and hula dancer. Mars received the nickname, "Bruno," when he was a toddler. "Bruno was always so confident, independent, really strong-willed and kind of a brute, hence the name Bruno, and it kind of just stuck," Jamie Hernandez, Mars's older sister, said. Mars began picking up musical instruments from early childhood and had taught himself how to play piano, guitar, bass, and percussion. "I've always had a drum set, a piano, a guitar…that's how I learned, just being surrounded by it my whole life," Mars said.  Mars was only 4 years old when he first started entertaining. He joined his parent's band, the Love Notes, as an Elvis Presley impersonator and when he was a teenager, he began impersonating Michael Jackson. 
Mars attended Roosevelt High School in Honolulu. There he formed a band, the School Boys, with several of his friends. They performed classic oldies hits along with his family's band at Ilikai Hotel in Honolulu. Mars was always fearless on stage and credited this to his childhood. According to Biography, Mars said "Growing up performing, that was normal for me. Everyone in my family sings, plays instruments. It's what we do." 
After graduating from high school, Mars moved to Los Angeles to focus and pursue his dreams of becoming a musician. For the first few years, it was very rough and difficult for Mars. He struggled to make breakthroughs in the music industry and became frustrated especially because he was so used to frequently performing in Honolulu. Mars eventually started to turn to songwriting during this dark period. "You have to write the song the world is going to want to hear over and over again. I learned that the hard way here in LA," Mars said. 
In 2004, Mars signed with the recording company, Motown, but no recording resulted. Through a relationship within the company, however; Mars was introduced to songwriter Philip Lawrence. Lawrence had agreed to help Mars composite material, and along with the sound engineer, Ari Levine, they began writing and producing songs for other artists under the name, the Smeezingtons. Popular songs produced by the Smeezingtons include, "Long Distance," by Brandy in 2008 and, "Right Round," by MC Flo Rida in 2009. In 2010, Mars contributed his vocals to the Smeezington-penned singles, "Nothin' on You," with hip hop artist B.O.B., and "Billionaire," along with rapper Travie McCoy. Mars broke out as a singer in, "Nothin' on You," which skyrocketed to No.1 on the Billboard Singles Chart. These songs transformed Mars from a behind-the-scenes composer to a pop singer.
In 2010, Mars released his first solo single, "Just the Way You Are," from his first album, "Doo-Wops and Hooligans." The song quickly put him at the top of the Billboard Singles Chart once again. Other songs in the album include, "Grenade," and, "The Lazy Song," which both reached Top 10 on the singles chart. The album garnered him his first Grammy Award for the best male pop vocal performance for, "Just the Way You Are." In Dec. 2012, he released another album, "Unorthodox Jukebox," which included, "Locked Out of Heaven," " When I was your Man," and, "Treasure," which won him another Grammy for the best pop vocal album. In Nov. 2016, Mars released his third album, "24K Magic," including the tracks, "Uptown Funk," "Finesse," with Cardi B and, "That's What I Like," which reached number one on the Billboard Hot 100. In 2018, Mars cleaned up at Grammy Awards and won in all six categories including Record of the Year, Album of the Year, and Song of the Year. In Feb. 2019, he released his latest track with Cardi B, "Please Me," which reached number three on the Billboard Top 100.
Ever since he was a little kid, Mars has always been a talented entertainer. From impersonating household music artists, Michael Jackson, and Elvis Presley, as a child, to becoming a music artist who is recognized globally, Mars has made it big into the music industry. Mars is a living example of how you should always chase your dreams and ambitions.