Christina Pfaff: Huntley then and now
Christina Pfaff grew up in Huntley playing volleyball. Both Huntley and volleyball run through her veins. A member of Huntley High School's 1998 graduating class, Pfaff was born and raised in Huntley. Her favorite sport growing up was volleyball. 
Pfaff reflects on a different Huntley growing up. Pfaff attended McHenry County College to stay close to home.  However, she recalls Huntley being a tighter-knit community. 
"It was a small town. We knew everybody and everything that was going on. It was awesome," Pfaff said. 
 In 2000, Huntley had a population of 9,115 people with a total of 3,378 households. As of 2019, Huntley's population has grown to 29,305 people with a total of 11,818 households. That is a population and household growth rate of over 320% and nearly 350%, respectively, since Pfaff graduated from high school.
Huntley's growth is expected to continue over the next few decades. According to the Chicago Metropolitan Agency for Planning, Huntley's population is estimated to reach 41,299 by 2050. It is easy to understand why families are flocking to Huntley – it has excellent schools and is a great place to raise a family. 
Pfaff still feels a sense of community, despite the increased population. However, she believes the small-town feel may be fading. 
"We would go to church on Sunday and know absolutely everybody in that church," Pfaff said. 
As the town grows, so does the distance between the community. In some cases, we are more likely to avoid eye contact or cross the street rather than take the time to get to know our neighbors. 
Pfaff was a member of HHS' girls volleyball team. Playing on the volleyball team was one of the most memorable parts of her high school experience. If Huntley was a tight-knit community growing up, then the volleyball team was a family.
 Pfaff remembers the team always being together. There would be team dinners, and the team would hang out outside of volleyball. The parents also got together – because they wanted to, not because they felt mandated to do so. 
"We were definitely a family. A volleyball family," Pfaff said. 
Pfaff also recalls a bigger community connection with sporting events. Sports used to be different. The bleachers used to be packed at every game. 
"It was like what you would see in a movie. Every single person in Huntley was at the football games," Pfaff said.
Kids were playing around and having fun during sporting events, just like they do now – but it was different. The bleachers were packed every night for volleyball games too. Huntley teams supported one another. They rooted for one another. Nowadays, teams have to be told to support one another. The bleachers are, for the most part, empty for home games.
Pfaff knew volleyball was in her future. She has been coaching volleyball for 14 years and at Huntley for 10 years. As the junior varsity girls volleyball coach and assistant varsity coach, Pfaff passes on her experiences and family mentality down to her players. 
The girls volleyball teams today are a family – thanks in large part to Pfaff's leadership. Every practice ends with the players saying, "1..2..3..family." She reminds the players to play not only for themselves but for each other, for the family. 
Pfaff chooses to continue to coach because of the impact she has on her players. 
"It's not just coaching a sport for me, it's being there for my players on and off the court," Pfaff said. 
Pfaff makes the effort to get to know her players. She truly wants them to succeed. It is personal to Pfaff.
Not many people know Huntley better than Pfaff. Although the community has grown substantially and changed in many ways, Huntley will always remain her home. In fact, Pfaff has chosen to raise her two children in Huntley. Her daughter plays volleyball here. Pfaff gets the pleasure of watching her daughter grow up and play volleyball where she did, and she would not have it any other way.
About the staffer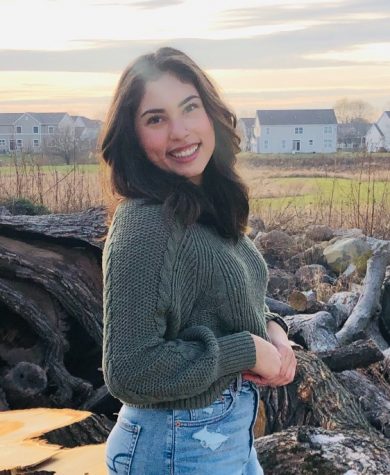 Luma Acevedo, Staff Writer
Luma Acevedo is a first year staff writer. She plays club and school volleyball. In her free time, she enjoys working out and reading.