Gianna Taylor finds her quarantine joy in cheerleading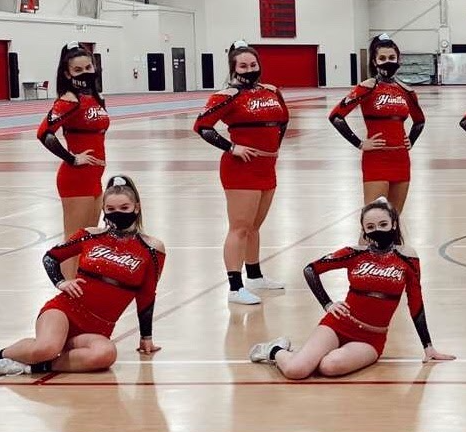 Before the pandemic had a large impact on society, after-school activities were still a large part of students' lives. Cheerleading, in particular, requires a lot of attentiveness and maintenance to make sure the skills and flexibility are not lost.
Gianna Taylor, a junior at HHS, has been tumbling since she was six; during her freshman year, she joined cheerleading.
"I joined cheer because I wanted to get involved in a school sport, and some of my friends were already in cheer and told me I should try it," Taylor said.
A large part of any sport is maintaining a healthy balance of school, social encounters, and the activity athletes are dedicated to. Currently, Taylor tumbles two days a week at Royalty Gymnastics while also traveling to practice and completing school work.
"There is always a little stress knowing I need to make sure my grades are up," Taylor said. "[But] some of my best friends are on my team so I get to see them all the time, and every year you get to meet new people and make more friendships [so it is all worth it]."
While there are difficulties and risks in cheerleading, the accomplishments outweigh those aspects. For Taylor, both the most challenging and most rewarding part of being a cheerleader would be how much progress and improvement she has seen in her tumbling abilities.
Even after the pandemic started, her practices did not end. With many accommodations along with social distancing, cheerleading training and practices continued.
"We cannot stunt or do pyramid because we have to try and maintain the six feet distance, but we are doing the best we can," Taylor said.
In the end, Taylor enjoys and encourages others to join cheerleading and try new things.
"Do not be afraid to go for it because you really make good connections and in the end, [your friends] are always there for you and you feel like you have another family," Taylor said.