Seth McChulloch: employee by day, paintball extraordinaire by night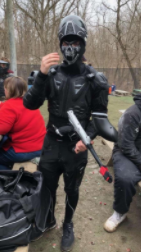 Paintball Explosion is a very fun place, filled with multiple arenas and different types of games with different rules that involve shooting paintballs and having fun with your friends and other players. Seth McChulloch is one of the many employees whose job is to enforce the rules of these games as strictly as possible, demonstrating safety measures while also keeping the energy high making sure the competitors have fun.
"As a referee, I need to enforce the park rules, including all of the safety rules and newly bowed COVID rules," McCulloch said.
These rules require McCulloch to be very strict with the people who do not follow the rules, but he was able to catch on soon enough. McCulloch is very passionate about the safety rules while working.
"I see a guy running without his mask on, and this is one of the times I'm yelling from my core. I tell them that I understand them, but for next time when they need to take their mask off, they should come to get us and we will help them," McCulloch said.
McCulloch is also an avid paintball player himself.
"I was once called the punisher and the terminator," McCulloch said.
McCulloch's job as a referee could even help him play in the future because of being able to see the game from an outside perspective. It seems like a very nice place to work where he can enjoy a hobby and meet new people like his co-workers.
"Most referees play during their lunch," McCulloch said.
It is nice to know that there is a place to work where you can have fun and help other players.
"I'm the third loudest referee, and I will even stop the game to bring everyone over and tell them the rules again if I see them not following the rules," McCulloch said.
These safety measures are very important to McCulloch and the other employees because of how dangerous the sport could be as paintballs could fly at 200 miles an hour and getting one of those to the eye could blind someone. It is McCulloch's job to make sure that dangerous things do not occur.
Overall, Paintball Explosion is a very nice place with nice people who are only trying to help others. Also, even though McCulloch is somewhat new to the job, he has done very well and has become a model employee.
John Hani, Staff Writer
Jon Hani is a part of the staff at the voice, this is his first year. He was apart of a fighting gym and he was the youngest person ever in the history of the gym to be accepted into the elite class of fighters. Jon practices fighting in his free time but he mainly has fight people 20 years older than him, but he also loves fluffy animals and loves to write short fiction stories.