Getting to know Basak Pratt
English teacher from another country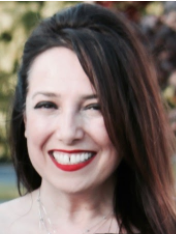 Acevedo: How would you describe your upbringing?
Pratt: My childhood was magical in many ways and yet tough in others. I grew up in Izmir – the Westernmost point of Turkiye, on the Aegean sea- with friends, walking to school through tree-lined streets and kicking the sand and the waves on beautiful, warm beaches. Things at home, though, were not as bright. I am a product of abuse kept indoors, behind the "keeping up appearances" facade. It was often a lonely and scary place. 
Acevedo: Were you born outside the United States? If so, where? And when did you move here?
Pratt: Yep, I was born in Izmir, Turkiye. I moved here nearly 24 years ago. 
Acevedo: What were some of your family's traditions growing up?
Pratt: As a byproduct of the [family] dysfunction, we did not have many family traditions, but one I always think of with fondness and love is going for a walk to get ice cream after dinner. They would even dip the ice cream in chocolate if you asked. 
Acevedo: Is there anything you would change about your past?
Pratt: This is a paradox, isn't it? Part of me says I wish I could have grown up in a more
loving, functional family. On the other hand, is it not our experiences that make us who we are? So would wishing them away also wish away some part of us we grow to love? I think I am going to leave the past where it is and enjoy the now instead.
Acevedo: Is your life everything you hoped it would be?
Pratt: My life is definitely everything I hoped it would be and more! I get to be a mom to an amazing kid who is the source of so much love and goodness in my life. I get to be the wife of an incredible man who is my rock and the love of my life. I get to teach here at HHS and see my students grow, learn, get better, thrive. Listen, life can be tough. There are things we wish we could change, curveballs with which we get smashed in the face from time to time, but I know two things: none of us are ever alone. You just may have to reach to feel the support and that choosing happiness is not just a myth [or] a magic wand but it leads us toward positivity and hope. 
Acevedo: Did you always know you wanted to be a teacher?
Pratt: Yes, I did, but I took a very unconventional road to teach. After earning my BA to
teach high school English, I had a job opportunity with a large corporation. Despite
reaching corporate success, teaching and mentorship remained a big part of my identity as well as destiny. Thus, I enrolled back in school at NIU to earn my teaching license to teach English here in Illinois. As they say, the rest is history.
Acevedo: How would you describe your life now?
Pratt: My life now seems to be crazier than ever; I am thinking so many others feel the same
way about their lives. My son is a freshman at UCCS; I am also going to school to earn my MA in English, and we have a new puppy who is an absolute terror and the sweetest thing ever all in one. Pandemic teaching has brought on so many new challenges, but I am very proud of the adjustments and improvements the students and teachers alike are making.  
Acevedo: Is there anything that you did growing up that you now do with your own family?
Pratt: I grew up in a beach town, so visiting shore towns is always a great source of joy and a slice of home for me. I think I instilled that love of water in my son and husband as well. 
Acevedo: What do you do when you are not teaching?
Pratt: These days, if I am not teaching, I am doing homework, playing with the puppy, hanging out with the hubby, or texting with my son. Unfortunately, there is so little time for extracurriculars but my husband and I are big foodies so when we can, we sneak a date night at a local restaurant or gather with some friends and cook.