"True Story" shocks watchers
New TV series blends drama and comedy in an interesting new way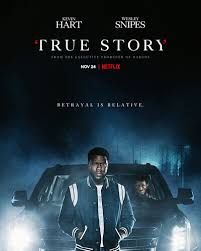 True Story is a remarkable series. When a pit stop on a comedy show tour becomes "life or death," the characters are faced with the harsh reality of having to make split second decisions. 
The series is directed by Stehan Williams and Hanelle M. Culpepper. It was created by Eric Newman.
Kid, the comedian of the series, is played by Kevin Hart. Hart is a big time comedian and actor. He is mostly known for his role in comedy movies. 
Kid is on top of the world. He is a huge comedian from Philadelphia. He is on tour with his whole crew. He is filling up arenas with fans that are dying to see him live. 
Then, at his show in Kid's own home town, his brother shows up. That is when things take a turn for the worst. 
In a crazy, blur of a night, things get intense for Kid and his brother. 
His brother Carlton, played by Wesley Snipes, needs Kid to do something for him. He needs Kid's help to hide a body. When it is all said and done, Kid is met at his door by detectives looking to talk to him. 
Immediately, Kid knows that it is not going to end well. He was on top of the world and now he is under investigation for crime. With all the attention he already gets, this is going to blow up everywhere.
Of course, a lot of critics have various opinions. However, the majority are in awe of this series. 
"This show had me on the edge of my seat and I had to take little breaks from my binge of the whole mini series in order to catch my breath. Each episode was so well written and so full of twists and turns that I didn't anticipate I was genuinely exhausted by the cliffhanger ending of each of them" Said Anna, a critic of Entertaining Movie.