Bringing a Fun Way of Teaching to HHS
Math Teacher and Coach Edward Philpot engages well with students, even down to a haircut.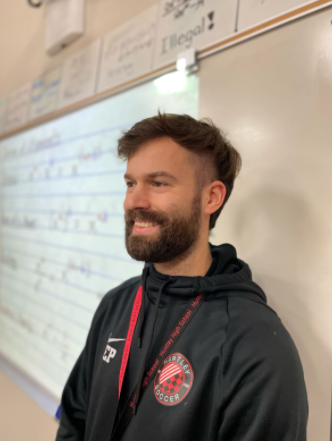 If students are taking an Algebra II class or College Algebra, looking for help through Raider Aid, or taking an athletic division of the school, they will probably see Philpot teaching a class or helping students. Philpot has been in this school since 2015 and has been coaching along with teaching the whole time, and has liked the school for what it has offered, even with its shortcomings.
"I think that Huntley has a lot of things to offer for students; I know that a lot of our academic courses are rigorous to prepare students for college, and that we have a lot of courses neighboring districts don't; It does have its problems, though, like bathrooms and too many kids in the hallways."
And in the school, he is someone who engages with students a lot, usually becoming one that many like. "I see my students more than I see my family members, like aunts and uncles," he said when asked about his experience with students. "And there are [students] that will have lasting impacts, I'll definitely remember some students for the rest of my life, whether positive or negative, and I have been impacted by certain students."
But that friendly act does not just go towards students, it goes towards teachers and even a special someone. Recently he proposed and got engaged to a woman named Alyssa, and has said it feels "nice, yet substantially poorer due to spending thousands of dollars on a ring" and cannot wait for the wedding and new chapter in life, even though it will be a lot of work. And as for teachers, he has made good friends with them as well, even cutting his hair to a mullet because "Mr. Lewandowski and Ethan Kornas' looked good and funny," then cut it himself, knowing it would look bad. When asked, he said that he might fade it and make it to an actual mullet for his next haircut.
But, unfortunately for the school, he might be leaving soon to pursue a new career.
"Everything that we've been dealing with, due to COVID, let's just say that it has pushed me away from education. I'm possibly thinking about doing something else after this school year; I am very much in the early stages of that."
However, he will not be leaving the school without its own impact on him, stating that it has helped him be a quick problem solver and deal with people in general thanks to his interactions with students.
While it is unfortunate that he may be leaving, whether he does or not, the school will no doubt be grateful for the time he has spent teaching, coaching, engaging with students, and having fun with them and other teachers.