HHS students- aggressive driving needs to stop
Reckless driving in the student parking lot causes several accidents, posing a threat to the safety of students at Huntley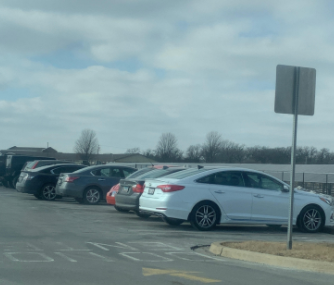 Students rush to come in and out of the student parking lot at Huntley High School. At the beginning of the school day and during blended periods, students rush to get a spot in the parking lot by driving the wrong way. Accidents could happen if students keep driving aggressively.
By driving safely and responsibly students would not get into as many accidents. If students keep driving this way, they will be at risk for an accident.
"Students drive so aggressively out of the parking lot. For example, I've had students pass me going 20-30 miles over the speed limit," senior Malik Alansarisaid.
Many students want to go home fast or leave fast during their blended periods so that way they are not going to be late coming back.
Students do not care, and they are in a rush to get back to their classes. They also want to get a parking spot fast, so some students may drive the wrong way just to rush.
"I feel like the parents fly through the student parking lot more than the students," senior Teagan Thompson said.
The parents should stay out of the student parking lot, and they should pick up their child at Door 1 where every parent should pick their kid up.
The school should put arrows in the parking lot for which ways students should go.
By having arrows pointing to which way students should go, it will most likely reduce the risk of accidents.
"I do not think the school should add arrows to the ground because it will confuse the students more, and it will just be a pain to deal with," Thompson said.
When we had the two days with lots of snow in the parking lot, it was not cleared properly, and students driving over the speed limit could have caused a huge accident.
By driving fast in the snow, there is a risk of sliding everywhere. It would be safe for everyone to go slow, and it will reduce the risk of being in an accident.
"I was already adrenaline-filled after almost getting into a car accident twice," senior Emily Goodman said.
Students need to be safer driving in bad winter weather conditions. Students are trying to commute here safely without anything to worry about.
"When we come to school in snowy conditions, we are looking forward to the parking lot to be cleared and salted," Goodman said.
When the entire parking lot is covered in snow, it makes it more dangerous for student drivers. Also, by seeing reckless drivers on the road, more accidents are likely to occur with the snow. Safety for students is always the school's first priority, so students should help follow that.