Best Buddies bakes up smiles
Club celebrates Valentine's Day by decorating brownies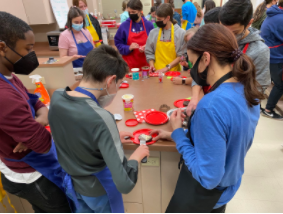 Laughter fills the foods room as the members divide into their designated kitchen spaces. As aprons were tied, hair pulled back, and hands washed, an assortment of cookie cutters were passed out, which were used to press into the brownie sheet. The loose structure of the club allows everyone to mingle and build connections with each other, which is ultimately the goal of Best Buddies Club.
"I joined the Buddies Club to meet new people. I really enjoy how welcoming everyone is, especially how light-hearted and fun it is to be a part of the club here," junior Ella Young said.
Young, among others in the club, does not have a specific buddy, instead, they float around supporting others and their buddies. Together they have been building friendships that would not otherwise exist without this club.
"I've been involved with Buddies Club all four years of high school. My freshman year I just went to the socials, sophomore year I became the social chair, and last year I was the secretary. Now this year I became the president of the club and help oversee everything which has been pretty cool," said Allison Braaten, president of Buddies Club.
Braaten's original motive for joining the club was because of her older brother. Her brother has special needs, and joining the club helped her further connect in ways she would not have been able to outside of the club. 
"Buddies Club is all about inclusion, inviting the special education students and the general students to bring everyone together [and] do activities like today with decorating brownies," Braaten said. "I feel like it makes everyone feel involved and gives everyone the opportunity to meet someone new." 
This year in particular, Best Buddies Club has moved in the direction of connecting with more clubs to increase its awareness. So far it has worked, as they have reached out to other programs like our National Honors Society and theater students. Its new outreach to other clubs and programs in our school has caused a parallel boost in attendees to their socials. Most notably was their Spooky Buddies social back in October with NHS. 
"A lot of these students have been in the same classes since kindergarten all the way up to some classes today. The biggest aspect of Buddies Club is the openness of saying hey if you want to come in and have the ability to help develop a relationship with the general students you totally can here," co-sponsor Cindy Fitzgerald said. "I think that is what sets Buddies Club apart from what most students are used to."
This is Fitzgerald's second year as a co-sponsor of the Buddies. She helps facilitate the process of getting permission to do socials, given the unique spatial requirements of some of the students with special needs. She also participates among other certified staff in the social events that occur monthly. 
The Valentine's special is one of the many social events that occurred this school year. These events build relationships between the students in our building that otherwise would not have gotten the chance to meet. Some of the relationships that have developed from Buddies have evolved to the point where they meet outside of school, showing that this club really does benefit the students. 
The rising popularity and awareness of the club may result in bigger events and more gatherings in the future, but until then, these once-a-month gatherings will suffice. They are always welcoming more new students to join Huntley's Best Buddies Club.