Jumping to new heights
Senior Paige Tenuto dedicates herself to track & field for the last seven years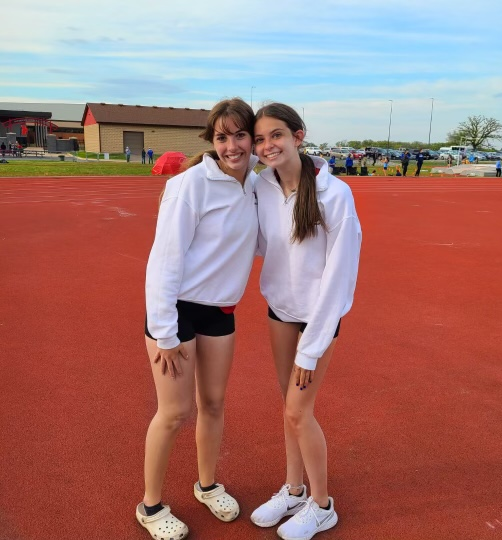 As the bell rings at 2:26 every school day, Paige Tenuto makes her way down to the field house. She changes into her typical tank top and shorts, pulls her hair up into a ponytail, and puts on her spikes. Walking towards the high jump mats, she's ready for another day as a member of the Huntley High School varsity track and field team. 
Tenuto has fully dedicated herself to track and field since middle school, participating on the Marlowe Middle School track team, as well as being a varsity track and field athlete since freshman year. 
"This is my seventh year doing track," Tenuto said. "I specialize in high jump and I occasionally do the 400-meter dash."
Tenuto's senior season thus far has been a major success, with three first place finishes for varsity high jump, and counting. But, it wasn't always this easy for Tenuto to grasp these first place awards.
At the beginning of Tenuto's junior year, she noticed sudden back pains whenever bending her back to jump over the high jump bar. This set her behind everyone else, unable to even come close to beating her personal record. 
"There was a fluid that was making space between the plates in my spine," Tenuto said. "As a result, I couldn't jump without it hurting and I couldn't bend my back."
As a result, Tenuto endured six months of physical therapy that went throughout the 2021 spring track season. However, she remained hopeful that she'd come back stronger for her senior year. 
"She went to physical therapy and took some time off to recover," Paige's mother Debbie Tenuto said. "She was committed to get back to the sport she loved and worked through the pain."
As this year's indoor and outdoor seasons approached, Tenuto continued to train and began competing again. Her positivity and passion for the sport radiates within her teammates, with everyone happy she is back to compete. 
"I'd say she's kinda goofy and talkative, especially to some of the younger athletes," teammate Melissa Aninagyei-Bonsu said.
Although Tenuto enjoys the company of her teammates, when it's 'go time,' she has learned when it's time to remain focused and to practice. 
"When Paige has to go to high jump, she's pretty focused on her event," Aninagyei-Bonsu said. "She's constantly working with our coach and trying to improve, even if she has to do a lot of reps."
Tenuto is currently working really hard on beating her personal records, hoping to make it to sectionals, and then onto the state championship. 
"My current PR (personal record) for high jump is 5 feet," Tenuto said.
Although Tenuto has been doing track and field for a long time, she revealed that this year will be her last year, as she is ready for new beginnings once entering college at Illinois State University.
As Tenuto is coming up to her last moments on the track and field team, she is proud of herself for the things she has accomplished throughout her time on the team. 
"My proudest moment was when I cleared 5 feet after my back injury," Tenuto said. "I was injured, but I still did it."
Tenuto has so much to be proud of throughout her time and dedication for track and field, with three varsity high jump wins this season alone. As Tenuto is jumping to new heights, we know she will soar and succeed in the future.