Is this Squishmallow bop or flop?
Reviewing the bumblebee Havin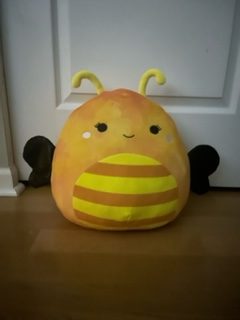 Since the beginning of quarantine in March 2020, I have been fascinated with Squishmallows. So I have begun a blog about myself detailing and rating some of my favorite Squishmallows, and telling you if they are worth the money and love.
The first Squishmallow I will be grading today is a Squishmallow named Havin, a bumblebee. Havin has been one of the Squishmallows that has caught my attention greater than the other ones I have purchased.
Havin is a beautiful mix of yellow and orange with little hints of pink, he has two yellow antennas at the top of his head, and he has two tiny, black, glitter wings on the side of his circle body. For his stomach he has yellow and orange stripes, for his cheeks, he has little light pink circles, and for his eyes and smile, he has just regular black. This bumblebee has such a captivating design and seeing this Squishmallow in the store could put anyone in a trance to purchase it.
If you are an avid Squishmallow collector, then some of you have realized that there are cards linked to the Squishmallow when you purchase them that describe their likes and dislikes and some interesting things about their personality. Havin's card describes him to be helpful, handy, and great at thinking outside of the box. I love these cards because each one of them is different and give a close-up look at how much time and effort goes into making a Squishmallow.
Squishmallows are all on a spectrum of flexibility ranging from none to all. They come in all different colors and shapes. But Havin is the perfect size to snuggle up with for the night and he is the perfect ratio of softness to firmness.
Havin is definitely one of my favorite Squishmallows I have seen in a very long time. He has bright and bold colors that fit the description on his card perfectly. In conclusion, Havin is a perfect Squishmallow that you could have for any occasion.