Student-teacher communication needs work
Students are upset about the lack of timely email responses from faculty members.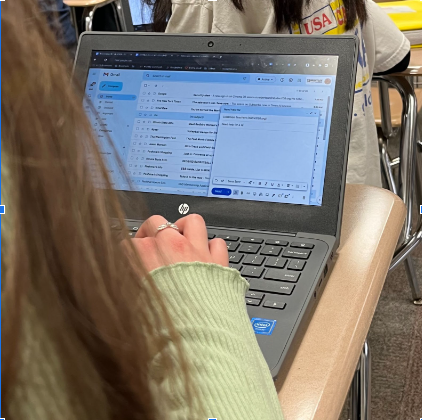 A student in class listens to their teacher explain an upcoming summative assessment. When the student gets home, they suddenly realize they have a question about the test. To study for the summative, they want to make sure they study the correct information. Once the email was sent, they did not receive a response. It was too late because the test was the next day. 
Some teachers who communicate well with their students create policies. That way, their students can ask important questions by email and receive a response, but if the email does not meet the criteria, then they will not.
"My policies are, don't ask me about something that I taught in class, go check your PowerPoint. Don't talk to me about a grade via email," English teacher Rochelle Hewlett said. "I think if you had the opportunity to ask me in class but chose not to, don't think that hiding behind a computer screen is the way to go see me. If a student responds or sends me an email about those things, sometimes I disregard it. Sometimes I say, 'see me in school.'" 
Hewlett makes it clear that when these policies were not put in place, there were too many emails to respond to. The number of emails she felt she had to respond to took away time from her doing her job.
"I a tremendous amount to the point where I couldn't do my actual job," Hewlett said. "I was inundated with so many emails that I couldn't even do my job right because I was spending so much time trying to answer all of them." 
Teachers have many responsibilities and priorities, but if a teacher does not communicate about what their email policies are, it can cause miscommunication. Hewlett thinks it is important for teachers to establish email policies.
"If it is within a reasonable amount of time, it's subjective. What I might feel is reasonable may be very different from somebody else," Hewlett said. "So maybe to defend the teachers who maybe don't respond enough. And so I mean, if I made a list of teacher responsibilities, priorities, and expectations about emails." 
Many students throughout Huntley believe teachers neglect to respond to their emails. Some students may think teachers decide to ignore the email and do not care. 
"I feel like a lot of them don't respond," sophomore Georgia Watson said. "I don't know if it's because they don't want to or that they might be busy." 
Student and teacher communication can improve by establishing email policies. That way, students know what is appropriate to email. Also, understanding when students may receive a response is important. 
"[Communicating] more to students about policies that they may have with their email [would help]," Watson said.
Students who have not received a response to their email might say it has happened more than once. Students might consider teachers neglectful of their responsibility to respond to emails. Teachers not responding to students could be considered as a culture at Huntley High School.
"I do feel there is a culture," Watson said.
Those students who may not receive responses from their teachers may recommend meeting with them in person, but in some situations, in-person does not help either.
"When I emailed my extracurricular teacher and didn't receive a response, I had to go to an office to meet her," junior Laura Boberg said. "When she wasn't there the first time. I went to the same room the second time and I talked to her, and she said that she saw my email and that she will respond. But she didn't."
Teacher and student communication through email can become better if teachers talk about establishing policies. Sharing information about when and what questions would be appropriate to send can limit miscommunication and stress.