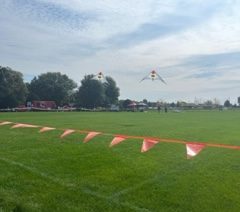 On a crisp autumn day with the temperature just reaching a high of 76, parents and children make the drive over to Deicke Park. Exiting the car, the parents' hands are filled with lawn chairs, electronics, and perfectly sized jackets for their children. As soon as the family sees the Huntley Kite Fest, their eyes light up. They are in awe of the beauty that the kites provide. Children have different kinds of Disney, Marvel, and DC kites that, when they are released up into the air, make the event come alive. 
On Sep. 24, families joined together to enjoy the beautiful sight of kite flying. At this event, there were choreographed musical routines by professional kite flyers, gigantic kites on display, a candy drop, and food vendors. 
The Huntley Kite Fest was an amazing event that brought people together from all over Huntley. There was a kite flying performance by Elizabeth Gordon who is a part of the Chicago Fire Kite team, who got into kite flying because of her family. It was a hobby they would do together on the weekends.  
"My whole family is involved, I just grew up into it. I have been flying since I was eight so, I 18 years. I used to compete for sport kite competitions professionally, yearly there were competitions in different locations," Gordon said. 
Most of the people at this event have been kite flying for years and it is a hobby they have done with their families and friends. Ann Vondriska, one of the managers of the Huntley Kite Fest, has been doing kite flying for many years now and loves it.
"I do the organization of the kite flying events and I have been doing that for over 20 years," Vondriska said. 
Creating the event and coming up with these ideas did not take a lot of effort for Barb Read, special events manager for the Village of Huntley, because she is close friends with Gordon and Vondriska which opened the doors for these events. 
 "In 2017, Ann and Elizabeth are my personal friends and [since] I run all of the special events for the village, I convinced them to come in 2017 and now we have been doing this every year since then," Read said. 
Kite flying has created memories and experiences for families and friends which is why this event brought out so many smiles and laughs. 
"I have done [kite flying] with [some of my] friends and family. I think my favorite thing [about kite flying] is getting to spend time with my family, especially when I get older," Gordon said. "It is nice to go to my parents and see my siblings and have something we can all do together."