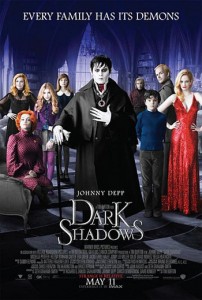 Gothic décor, Johnny Depp, death, and Helena Bonham Carter. These are all aspects of a typical Tim Burton movie and they are all included in "Dark Shadows," which is based off of the gothic horror soap opera from the late 1960s and early 1970s.
It all starts in the little town of Collinsport in the late 1700s where we meet Barnabas Collins (Johnny Depp).  Johnny Depp yet again agrees to play a creepy part in a Tim Burton movie that requires him to wear a lot of makeup.
Barnabas and his family build a home that reflects Burton's style magnificently. It has tall skinny Gothic windows, castle design, intricate sculptures and designs on the walls, and most importantly, hardly any light. Almost every one of Burton's movies is dark with dull colors and lamps that give off as much light as a candle.
Barnabas has an affair with one of his maids named Angelique (Eva Green), but falls in love with another woman. Angelique, who turns out to be a witch, becomes so jealous that she curses Barnabas to be a vampire and makes his true love jump off a cliff. Angelique locks Barnabas in a coffin in the ground for 196 years.
In the 1970s, Barnabas is accidently woken up by construction workers whom he proceeds to slaughter.  Barnabas is thrown into a completely different world and he does not know what anything is. He finds his way back to his old house, which has not changed at all. There he meets Elizabeth Collins Stoddard (Michelle Pfeiffer), David Collins (Gulliver McGrath), Carolyn Stoddard (Chloë Grace Moretz), Dr. Julia Hoffman (Helena Bonham Carter), Roger Collins (Jonny Lee Miller), and Victoria Winters (Bella Heathcote).
Roger Collins is the terrible father of David Collins and the brother of Elizabeth Collins Stoddard. Carolyn Stoddard is the hilarious, rebellious teenage daughter of Elizabeth Collins Stoddard. Dr. Julia Hoffman is the youth obsessed live-in psychologist. Victoria Winters is the governess with a mysterious past who has come to take care of David Collins.
Barnabas immediately falls in love with Victoria Winters, but Angelique still loves Barnabas. She continually tells Barnabas that she will destroy him if he won't love her back. Barnabas continues to refuse her without major consequences. When Angelique discovers his love for Victoria, she becomes viciously angry.
The final epic battle takes place at the Collins estate between Angelique and Barnabas. The battle leaves you with the death of Angelique who shatters like a porcelain doll and the discovery that the obnoxious teenage daughter, Carolyn Stoddard, is a werewolf.
After defeating the enemy, Victoria tells Barnabas that they can't be together because she lives in the light and he lives in the shadows. She will grow old and he will never die. The typical Twilight forbidden love between a human and vampire.
Victoria jumps off a cliff saying it is the only way and Barnabas jumps after her. Mid-air he bites her neck and turns her into a vampire just before they smack into the sharp rocks below saving her life.
Although the plot was tiresome and typical, the acting was good, especially that of Chloë Grace Moretz who played a hilarious part. They were a few modern jokes that made the audience laugh and some special effects that impressed me.
Other than a few laughs here and there and a few good actors, the movie was not worth the money and should probably stay in the shadows.