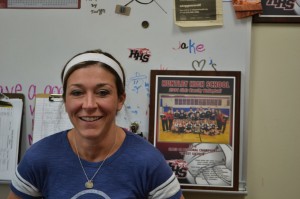 Last Thursday, Karen Whitehouse was approved by the District 158 Board of Education to be hired and to take over as Huntley High School's new volleyball coach.  Whitehouse will be taking over for coach Michelle Jakubowski, who will be Huntley's athletic director next year.
"It's a great program," said Whitehouse.  "I'm very excited to coach here and to teach here."
Whitehouse, who coached at Hampshire High School since 2005, will come in as a highly-decorated coach.  She coached her teams to a 138-62 record while also leading the Whip-Purs to a second-place finish in the 2007 Class 2A State Final.
Once Whitehouse learned that there was a vacancy at Huntley, she contacted Jakubowski and sent over her application.
"This is somewhere I've always wanted to be," said Whitehouse, who also lives in Huntley.
Whitehouse will be taking over a Red Raiders team that finished with a record of 31-8 last season and fell a two games short of advancing to the state tournament.  She hopes her philosophy as a coach will help her team succeed in her first year.
"Michelle has already done a great job with them, so it's stepping into a program that's already been successful," she said.  "I'm a strong believer that what you put into the season is what you get out of the season.  If they're willing to work hard and trust me, since I'm a new coach, then hopefully good things will come out of it."
But although Whitehouse will be with a brand new team, she maintains the same expectations she has had each year with the Whip-Purs.
"I don't ever change my expectations or my goals regardless of what team you have or whether I'm a new coach or not," said Whitehouse.  "My goals will always be the same.  My goal is to go down state and that's the ultimate goal for every state and every team."