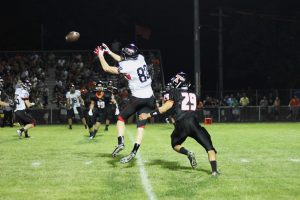 The John Hart era of Huntley football began Friday with a heartbreaking 27-26 loss to Crystal Lake Central. The Red Raiders were looking to start their 2012 season off with a win, and nearly did so, but an explosive Tigers offense led by running back Matt MacAlpine who drove the length of the field to put the game away with four seconds remaining.
Huntley struck the first blow with 1:20 left in the first quarter, off of a pass by quarterback Kameron Sallee. Another drive down the field put the Raiders up 13-0 going into the second quarter, but Central soon responded, scoring two touchdowns in seven minutes to take a 14-13 lead, and held the ball with less than a minute remaining in the half. Huntley senior DeMario Hughes collected the first of his three interceptions on the night with 43 seconds remaining in the half, and Huntley then ran out the clock.
Huntley looked rejuvinated coming out from the locker room at halftime, quickly scoring back to back touchdowns off of runs by senior Ethan Conner and a pass by Sallee and taking a controlling 26-14 lead going into the fourth quarter.
The Tigers then came roaring back, driving down the field to close the gap to 26-21. Huntley's offense sputtered on the ensuing possesion, and the Raiders were forced to punt with two minutes left in the game.
The Huntley defense, strong all game, could not stop Crystal Lake on an 80-yard drive, giving up multiple pass plays. The Tigers then ran the clock down, and scored a touchdown to pull ahead 27-26 with four seconds remaining. They then unsuccessfully attempted a two-point conversion, and time ran out following a desperation Hail Mary from Huntley to provide the games final score.
Players and coaches alike appeared upset after the game, immediately entering the locker room and then boarding the bus.
Huntley's next opportunity for a win will be when they play Kaneland at home next week.
Editor note: On Saturday morning look for a photo gallery from the game.