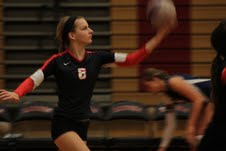 In June of 2013 during a national volleyball tournament on Navy Pier in Chicago, Ally Dion's travel volleyball team, Sky High Volleyball, is playing in the championship game. The team is very excited to be in the finals because the tournament is very difficult and top teams from all around the country attend. The crowd is massive, all the other teams, refs, parents and fans are watching the intense match.  The set count is 1-1 and in the third set Dion's team is down 15-14. The opposing team needs one more point to defeat Dion's team and win the national championship.
Sky High Volleyball takes a timeout and their coach tells them to take deep breaths and to play like the game was tied at 0. On the next play, Dion's team gets a kill to tie the game at 15 all. On the next play, one of Dion's teammates gets an ace and puts Dion's team into a position to win on the next serve. As Dion's team celebrates, the other team calls a timeout. After the timeout, the tension in the air is the highest of the game as Dion's teammate serves the ball. The other team returns the ball and a long rally ensues. Finally, after a perfect set from her teammate, Dion's spikes the ball right down the line for the national championship winning kill. Plays like this are common from varsity volleyball standout Dion.
Dion is part of a volleyball dynasty. Her older sister Amy was one of the best volleyball players to ever play at Huntley High School. Amy now plays volleyball at the University of Maryland. She started as a freshman and played libero but now as a sophomore has moved to the setter position.
Amy also played for Sky High Volleyball and was a two time AAU All-American while at the club. Amy won many other awards at Huntley including being named to First-Team All-State her senior year and Fox Valley All-Conference team for all four years she was at Huntley.
Amy is not the only other Dion to be a volleyball stand out, though. Dion's mother, Sandy, played volleyball at the University of Illinois-Chicago and Dion's aunt, Wendy Chauncey, played volleyball at the University of Northern Illinois.
"Growing up I always watched my sister play and learned a lot from her. I look up to her a lot in volleyball because of how far she's gone with her career," said Dion. "Even though it is very tough to do, my goal is to play division one volleyball like my sister."
Dion says that her aunt and mother helped Amy get into volleyball and Amy got her into it. She says that her mom gives her tips after every game. She went to many Huntley High School volleyball camps growing up and also went to camps held by Sky High Volleyball. At the age of 10, Dion tried out for Sky High Volleyball club team and made it. She has been playing volleyball ever since.
Even though Amy is away at college in Maryland, she and Dion still keep in touch. Dion says that they talk regularly and exchange tweets. Amy also came back to Huntley during the summer to help at Huntley's volleyball camp. While there, she faced off against her sister.
Dion described the game as "a lot of fun" and Huntley volleyball coach Karen Liss laughed that "Amy couldn't handle Ally's hit."
Dion has been highly regarded and respected by all of the people around her during her time playing volleyball. Liss has coached volleyball for eight years, two at Huntley. Coach Liss has nothing but positive things to say about Dion.
"She is a great kid, works extremely hard, and wants to be a top player," said Liss. "The great thing is that she is only a freshman and to have that work ethic and dedication to carry through for another three years. She is definitely going to be an impact player."
Michelle Jakubowski coached volleyball at Huntley for 17 years before she became athletic director in 2012. She coached Amy while she played at Huntley and has watched many of Dion's matches this year.
"Coaching Amy was amazing; she was one of the best players I have coached in all my years," said Jakubowski. "She was hardworking and passionate. She started every match as a varsity player during her four years here."
Just like Amy, Jakubowski had many great things to say about Dion.
"I've watched Ally kind of grow up and play club; Ally is a very strong player. She is a little different than Amy; she plays outside and plays all the way around. Ally is just as passionate though, just as hard-working as Amy," said Jakubowski.
Dion has had a lot of success on the varsity volleyball team this year but admitted the transition was tough at first.
"At first it was definitely tough to fit in because all of the girls had been playing together for years and I was the youngest on the team, but they made me feel comfortable and really made me feel like a part of the team. They welcomed me really well and now we consider the team a family," said Dion
The transition was also hard because Dion went from being an all-star on her club team to just a freshman on a varsity volleyball team filled with other all-stars.
"Coming in as a freshman on varsity, I don't expect to play all the time, having all these talented players on the team. But when I get a chance, I do my best to take advantage of it," said Dion. "I've had good games here and there, some where I played a lot more than others. But getting a chance to play with the teammates that I have is amazing and I love every second of it because we go through wins and losses as a team."
With Dion just being a freshman, Huntley volleyball looks to be very good over the next few years. Dion has the passion, work ethic, and physical skills to be a top player for years to come. And let's face it; being part of a volleyball dynasty doesn't hurt either.