The Huntley High School Orchesis's sixth annual dance show had its opening night On Feb. 13, showcasing  pieces choreographed by students and teachers alike. This year's show is called "Marching On" and it is the first time that Orchesis Alumni performed on stage.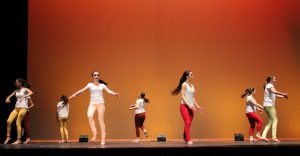 Former Huntley High Orchesis members Steffany Alvarado, Kelsey Collins, Alejandra Diaz, Rebecca Kapolnek, Marilyn Lopez, Jazzy Morales, and Heather Packard all performed a number choreographed by Leslie Parrin.
"We all missed dance,"  said Jasmine Morales who is now a sophomore in college.  "It was a big part of high school for us. "
Another unique performance was choreographed and performed by student and dancer, Anna Deviatko. She is originally from Ukraine and showcased a traditional Ukrainian folk song and dance.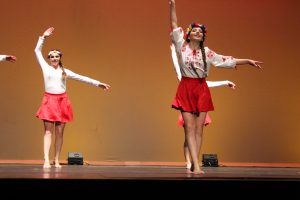 "I always dreamed of dancing and I'm so glad that Huntley High offered this experience to me," said Deviatko.
This show also marked the first time that Huntley High School faculty performed a dance on stage with other Orchesis dancers.
The Orchesis students were the first ones to approach director Leslie Parrin about the idea of having teachers perform on stage with them.
"I sent an e-mail out to the faculty and within minutes I got responses back saying 'I'm in'," said Parrin. "The girls were so excited."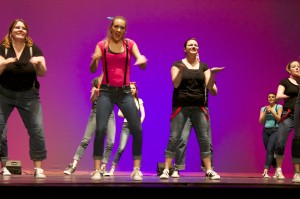 The week of the show, teachers who were performing  came on the announcements to promote the show and their involvement in it.  Excitement and energy from both the teachers and Orchesis members could be seen both on stage and off stage.
"A lot of the teachers don't know what these girls can do," said Parrin. "It's really exciting for the teachers to see who they are outside of class and how hard the work."
Dancer, Bailey O'Rilley choreographed the dance involving Huntley High School faculty, and the rest of the Orchesis helped the teachers get into their groove. Faculty dancers included James Allen, Jaclynn Avner, Cathy Bardy, Rebecca Davison, Christine DeFrancesco, Kate Feinstein, Jessica Kapachinski, Allison Larson, Pete Pettorini, Maureen Tempe, and Brian Thornley.
"[The girls] work really hard and do a great job," said English teacher Rebecca Davidson.
All the teachers agreed that it was a fun experience, and although some did not have any stage experience at all, they still enjoyed it.
"Once I got on stage I felt like I belonged," said math teacher Brian Thornley.
All joking aside, all the faculty members' energy and enthusiasm for their involvement showed while they danced alongside the Huntley High School Orchesis.