From the swamp to the stage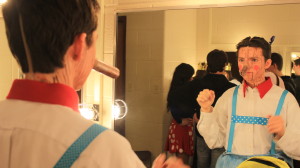 For the next few days in the Performing Arts Center, a replica of Shrek's swampy home-sweet-home will lurk at the left of Huntley High School's stage, and Princess Fiona's childhood tower will perch on the right. The stage is set for the Thursday premiere of "Shrek the Musical," this year's all-school musical directed by Nancy Cross, Tom George, and Michelle Sopchyk.
The cast performed two in-school shows today for District 158 Elementary school students, and there will also be performances this Thursday, Friday, and Saturday at 7:00 p.m. and on Sunday at 3:00 p.m.
"It's kind of like more of a rehearsal just for us to work out some things, you know, just to feel like a real show," said senior Kora Rea, the assistant director, of the in-school performance day.
The cast has been practicing since January to pull various elements of the show together. The original Broadway version of the show clocks in at about three hours, but the school's version has been shortened to about two hours.
"Mrs. Cross and the band director do all the cutting themselves. It took a lot of talent to do that, definitely," said Rea.
The musical version of Shrek's story stays true to the original plot of the 2001 Dreamworks film while elaborating on Shrek's backstory and life. Additionally, many musical numbers appear in the show to supplement the film's few. Though there isn't any Smash Mouth music in the show, an instrumental version of "I'm a Believer" played near the end is a reference to the film's soundtrack.
Additionally, this year's show has a much more magical focus than last year's "The 25th Annual Putnam County Spelling Bee," and as such, multiple special effects were needed to bring Shrek's fairytale world to life.
"We've done a lot of cool things with the lights to kind of portray that magic. There's a scene that's behind that changes colors so it projects shadows and stuff like that. We've done sound effects, like burping and farting and stuff like that as well," said Rea.
According to Rea, though the cast didn't get much time onstage, PAC director Nate Knapke and senior Josh Katz mainly handled the undertaking of setting up the lighting with awesome results.
The makeup team headed by Katherine Duchene also faced challenges. Many of the makeup looks are extremely intricate to bring the show's magical creatures to life.
"I think not only the lines [are challenging] but also that you have to put on the makeup, and that's one of the most challenging parts of it, if you're a guy, of course," said freshman Steele Dehmlow, who plays the part of Lord Farquad.
In addition to elaborate makeup, the show also features fantastical sets, mainly constructed by a set team during their Spring Break set building party, as well as a multitude of costumes. Renting and making costumes is a daunting task, especially considering the show's large number of characters.
"Everybody has cool costumes. We even rented a dragon puppet. Most of the costumes we rented or made, and so it's been hard to costume 50 people when they all have different parts. I think mostly everyone has a second costume," said Rea.
Junior Madison Paez, who voices the dragon, will be singing while four other girls operate the dragon puppet and maneuver it across the stage.
"I have to wear a costume and wear a hairpiece and wear the base makeup like everyone else does, but for the most part, it's not anything above and beyond what the actor right next to me does," said Paez about voicing the dragon in such a unique situation.
In addition to fostering a sense of magic and adventure, the show also fosters a sense of family. According to Rea, the cast consists of 18 upperclassmen and 30 underclassmen, and everyone works extremely well together.
"I just love working with all of these awesome people, and it's such a family environment," said Paez. "We all care about each other so much, and you feel really good being with these people."
The show's upcoming premiere also marks the end of many seniors' high school performing arts careers.
"Yesterday was our last rehearsal and I was sitting up there in the booth and I was like, 'Wow, this is it,'" said Rae. "[At the end of the show] everybody cries, and it's very heartwarming because this is an entire family, and we're all together, and as seniors, we're leaving."
Tickets for the show can be purchased at the door for $5 or online for $5.50.