Jacobs tops Huntley on penalty kicks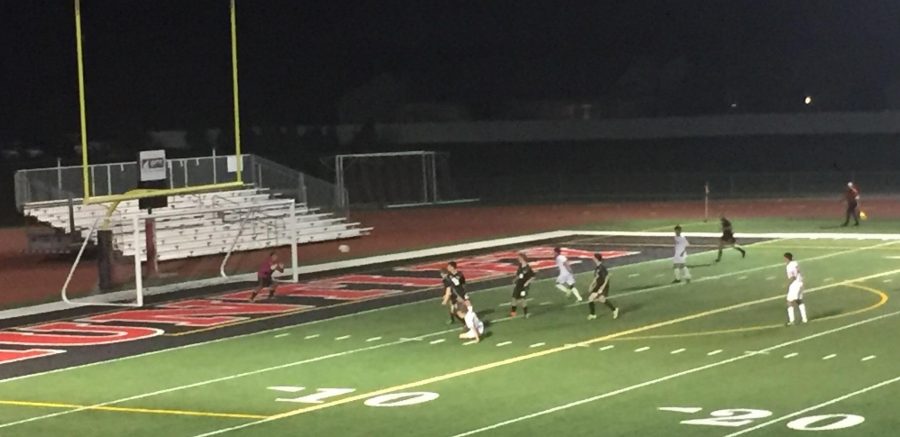 With this victory Jacobs improved to 8-3-0 overall, while Huntley dropped to 9-2-2 in their first conference game of the season.
From the start of the game both teams were very physical, battling for the ball with high intensity every chance they could.
"During the game I was trying to tell myself to not be nervous," said senior Alessandro Vergara. "From the time I woke up this morning I was so nervous."
During the first half, Huntley wasn't winning the ball in the air causing Jacobs' defense to take possession.
Scoring the first goal of the game halfway through the first half, Aaron Ruffner proved to everyone why he got bumped up to varsity a few weeks back.
Jacobs scored a goal with 6:09 left in the game to tie it at 1-1, soon after regaining possession of the ball from Huntley.
Only 11 seconds later, forward Travis Walsh responded by scoring his first of the night.
Many missed shots caused Huntley to lose control of the ball on their end of the field, and led the Golden Eagles to score with 4.7 seconds left in the game.
Both teams couldn't tally after both 10 minute periods of overtime, but Jacobs managed to come away with a win after 12 players shot during penalty kicks.
Despite the loss head coach Kris Grabner was happy with the turnout of the crowd and was "overall pleased with our performance."
"If we score goals like we had the opportunity to, then it never goes to penalty kicks," said Grabner.
Forward Max Walsh agreed with his coach, saying, "We just have to capitalize on our chances next time."
Huntley's next game is against Marmion on Saturday at home.