The competition is getting intense. But, this is not your ordinary competition. It is between a father and a son playing the game they love the most: "Magic: The Gathering."
"[My son and I] were paired up against each other and I had beaten him earlier in the competition, then he beat me in the top eight," said Frank Novak, Huntley Public Library director. "That was a great memory because he did so well and he was so excited about it and won a bunch of packs."
Hence, "Magic: The Gathering" is not your ordinary game. People play the game and they make, cherish, and love the experiences that follow. Now, "Magic: The Gathering" has been around since 1993 and throughout the years the game has been known to have lore, strategy, and an amazing community. The game has always offered enjoyment for all.
"I like it," said Ryan, library patron. "Every game is different."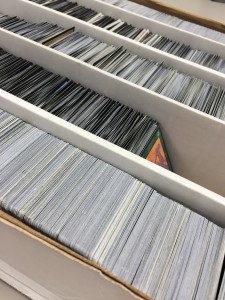 Every game is different because because "Magic: The Gathering" takes place in an infinite realm that contains stories of fantastic characters. Those characters consist of The Planeswalkers. The Planeswalker is able to leave their world of birth and travel to any given location. Hence, the player controls their stories, especially in battle.
"It's not like Chess where there are only so many things you could do," said Ryan. "I can put any characters in a deck that I want, they might not be good, but I can play it."
This leads to many dragonlords,  spirits, and manipulative gods whom the characters you choose can explore. The choice is up to you. Now, Huntley and Lake in the Hills residents can also have the chance to get involved with "Magic: The Gathering" at the Huntley Public Library.
"This has been going on since April and we had had a bigger crowd at first," said Novak. "We are going to start up [meetings] again, but we are going to take a break for awhile."
Hence, the Huntley Public Library offers a relaxed, friendly, and non-tournament environment for any player to enjoy. Whether you are a veteran coming into the library to get your deck tuned, or coming in to learn about "Magic: The Gathering," all are welcomed ages 13 and up.
Lastly, as the Planeswalkers say, Let the Battle Begin!