School Uniforms Make Sense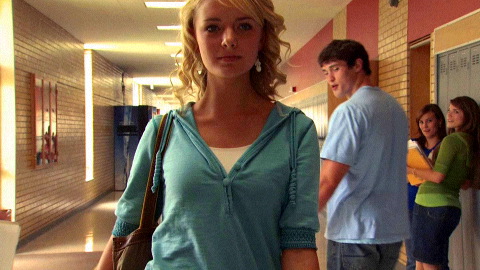 Down the hall, a girl walks in her black dress she got from a friend. A flannel with shades of red, white, and black hug her around her waist.
Black tights are worn under the dress to keep warm from the chilly, 20 degree weather, along with some combat boots that clink every step she takes because of the zipper on the sides.
It is a stylish look that looks cute but casual. It is a trend that is common right now for most girls who feel in the mood to wear a dress to school but do not want to make it look as if they were going to Homecoming.
As the girl makes her way throughout the halls, she is given some stares from both boys and girls. These long looks are not stares that give off the kind of impression that would make someone feel good about herself. These looks are more as if someone is disgusted by what they are looking at. They seem to have a confused looks as if they could just ask that girl, "Why in the world are you wearing that?"
That girl is me.
The night before, I had rummaged through my closet to find what I had thought was the perfect outfit. Even my mom gave me the nod of approval, which says a lot.
The second I walked into the school I felt as if I was judged right on the spot. Was it because my dress was too short? I immediately reminded myself that the dress went past my fingertips, which is much longer than what most girls would be seen wearing and was okay for school dress code.
At that point, it seemed as if school would just be easier if everyone had the same attire. That would demolish of all the feelings I had just experienced that day since no one would be able to judge one another.
I guess someone could judge someone else's uniform if they wanted to, but it would be pretty dumb considering the fact that they would be wearing the same thing.
Huntley High School could reduce the amount of people judging one another based on what they wear by creating a school uniform. I believe that if the school were to do so, this would create less of an environment where people would be more focused on their education than what themselves/someone else is wearing.
In Long Beach, Cali., students kindergarten through eighth grade began a mandatory school uniform policy. That uniform policy resulted in a large decrease of the negative effects of having no school uniform policy such as sex offenses or assault.
Wearing a school uniform could give many students a feeling of security and safety. They would have one less judgement to worry about while in an environment full of very judgmental teens.
Another plus is that students would not have to spend time finding out what they want to wear. Students could just throw on the school uniform and not debate for 10 minutes whether they want to wear a sweatshirt or sweater for the day.
A downside of having a school uniform would be that students are taken away from their freedom to express themselves and show their individuality. While that may be an issue, there could still be a possible way to show your individuality by adding an accessory or making your hair a certain way. Depending on the policy, students could change up the look by wearing a scarf or even by wearing their favorite pair of Converse.
Overall, I feel that a school uniform would create a better environment for teens who are worried about going to school each day because of the fact of being bullied.
In the movie "Mean Girls", Regina George, a girl who is a pretty blonde idolized by the other girls in the school, sets a rule that all her friends have to wear pink on Wednesdays. One day, George does not follow the rules and is told by her friends that she cannot sit with them at lunch.
This just gives another example to how an outfit can affect a student's environment, and therefore shows that school uniforms would be better for Huntley High School.
Hang on for a minute...we're trying to find some more stories you might like.