"A Beautiful Day in the Neighborhood" shows the power of kindness
For as long as he has been in the Hollywood scene, Tom Hanks has never failed to prove that he is a well rounded actor. Hanks is best known for his remarkable portrayals as Forrest Gump in "Forrest Gump," and Walt Disney in Disney's "Saving Mr. Banks." Being an Oscar winning actor is no joke, so when you are expected to portray one of America's most beloved neighbors, the whole nation is watching to make sure you live up to their idol. However, for Hanks it seemed as if he was made for the role of Mr. Fred Rogers.
"A Beautiful Day in the Neighborhood" is a film directed by Marielle Heller that is loosely based on the making of the 1998 Esquire article "Can You Say…..Hero?" by Tom Junod. Instead of being your typical how-this-person-became-famous movie about Rogers, we see how he impacted journalist Lloyd Vogel, the character based on Tom Junod and played by Matthew Rhys, while Vogel interviews him for to know how it feels to be America's hero. 
The movie starts off like your typical "Mister Rogers' Neighborhood" episode, beginning with the toy replica of Rogers' hometown, Pittsburgh. Viewers then hear the all-too-familiar lyrics "It's a beautiful day in the neighborhood, a beautiful day for a neighbor…" as Hanks starts his new episode on feelings. We see the loveable original characters such as King Friday the 13th, Daniel Tiger, and Mr. McFeely, the mailman. However, we get introduced to a new friend, Lloyd Vogel, as Rogers explains how Vogel is learning to deal with his feelings and emotions. 
We learn Vogel has had a difficult relationship with his father, played by "The Muppets" star Chris Cooper. While being interviewed, Rogers begins to care an awful lot about Vogel, and wants nothing more than to help him with his family problems. Through observing his interactions with children and getting to know the TV staff, Vogel decides it's time to listen to Rogers' honorable morals. 
With the help of Rogers and Vogel's loving wife Andrea, played by "This is Us" star Susan Kelechi Watson, Vogel learns how to deal with his past and move on.
While Vogel was once an emotional mess, he develops the ability to understand his father's forgiveness through his time with Rogers. 
"A Beautiful Day in the Neighborhood" was able to capture the authenticity of Fred Rogers' heart and passion of caring for others. I enjoyed the new storyline of this movie because it wasn't entirely based on Rogers but how one person was impacted by the childhood icon. 
Hanks did not disappoint in any way in his portrayal as Rogers. Growing up, I would look forward to the 25 minute computer lab breaks we would get so I could watch Mr. Rogers, and Hanks accurately represented the familiar face. Viewers left the theater teary-eyed and hearts filled.
"A Beautiful Day in the Neighborhood" is a wholesome movie that will make you cry, smile, and feel everything in between with Hanks' wonderful performance.
About the staffer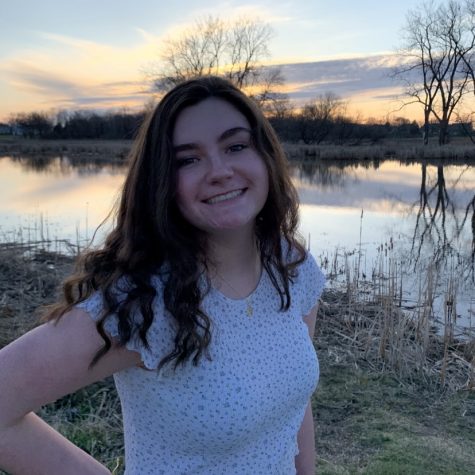 Maggie Kirwin, Floating Editor
Maggie Kirwin is one of the social media editors and is a returning member. Fun fact, over the summer she read nine books. In her free time, she loves watching movies and playing lacrosse. Some of her favorite movies include "Little Women (2019)," "La La Land," and "Meet the Robinsons."