Asylum horror movie shocks and scares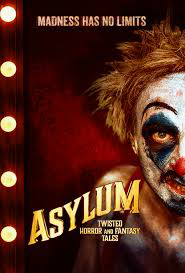 The "Asylum: Twisted Horror and Fantasy Tales" film is filled with constant seat-clenching fear. There is no telling what is to come next. Film directors Caye Casas and Alejandro Damiani have reached a different level of gore. 
The story line of the movie is cynical, and if you blink you might miss it. The main character is a stand up comic who begins to tell jokes that spark smiles and laughs throughout the audience. There was nothing more peaceful than this moment for him. Until he realized that the jokes he told were stories of his past, stories that had grave meanings for him.
This story is filled with comedy, mystery, and horror. Trust me, it is well worth the roller coaster ride of emotions the writers take you on.
Since the beginning of time, people have written stories to ignite horror, to bring fear into the eyes of people; but it is not the mind of the twisted writer but more so  the minds of the twisted viewers that make these movies so terrifying.
In an article written by Stephen King, there was a statement that could never be forgotten. King said something  humans crave horror because we like to be subconsciously unaware.
Often people find themselves seeking danger or wondering what happens next, so that is what horror does… provides danger along with the unknown. 
With that being said, go check out the newest horror movie on the block "Asylum: Twisted Horror and Fantasy Tales." You will not be disappointed.