Why Don't We keeps the surprises coming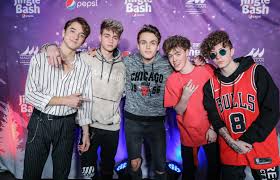 Times like this call for new music. Although the band name Why Don't We is a popular title amongst teenage audiences, former fans anticipate a new album in the upcoming year of 2021. "The Good Times and The Bad Ones," released on Jan. 15 is keeping Why Don't We fans on their toes. Members Zach Herron, Jack Avery, Daniel Seavey, Corbyn Besson, and Jonah Marais couldn't bear to make their fans wait, generously releasing 3 songs prior to the album reveal, one of those songs having been released on Dec. 16th. 
"Fallin' (Adrenaline)" released on Sept. 29 is a song about the rush and anticipation of falling in love. In early December, Why Don't We released a follow up song titled "Lotus Inn," describing party scenes and implying motel hook-ups and dirty dancing. "Lotus Inn" exceeded the expectation of fans, extending the bar for upcoming releases. 
On Dec. 16, "Slow Down" surprised fans via Instagram. Along with the song release, a short video of the boys appeared on their official Instagram page with the caption, "Surprise … #SlowDownOutNow." Not only did fans receive this pleasant surprise, but the band also released their official music video for the song via Youtube. 
Both the music video and the song imply changes in a relationship, and coming to a realization that things may just be moving too fast. Although the message may seem upsetting, the upbeat sound creates a positive outlook on the topic.
Why Don't We's sophomore album expresses the hardship of making something beautiful out of something ugly. 
"Life has been amazing, and equally tough. But you have to do your best to make something beautiful out of it all, so that's what we did," said the band via Instagram. "We put everything into this album. We hope it helps you enjoy the good times and push through the bad ones"