Silk Sonic's debut album brings R&B funk
Bruno Mars, Andrew Paak, and Bootsy Collins release "An Evening with Silk Sonic"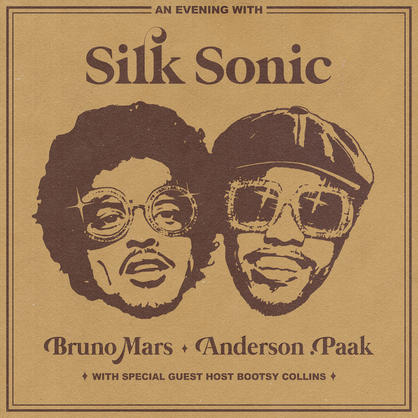 As a child, Peter Gene Hernandez dreamed of becoming a musician and songwriter. Today, through another name, Bruno Mars has accomplished his dreams and turned playing around with instruments into a Grammy-worthy career.
Together, Mars and Andrew Paak formed Silk Sonic and banded up with Bootsy Collins, as a special guest host, to create their album, "An Evening with Silk Sonic." Preceding the album, Silk Sonic's single, "Leave the Door Open," released March 5, topped the Billboard Hot 100. This created Paak's first number one song in the United States and Mars' eighth.
Silk Sonic is a blast to the past with '60s and '70s blues, jazz, and R&B. The three kings come together to form songs that listeners can't help but dance to.
The album opens with a short introduction, "Silk Sonic Intro," setting up their pumped R&B tunes to follow. Here Mars, Paak, and Collins introduce themselves with pop-funk tunes. There are a total of eight songs in this album, excluding their intro.
In many of their songs, it is notable that the singers will attempt to be with a girl but ultimately fail. Each song has a different way to view the relationship, and some are happier than others.
To start their disco, Mars and Paak start with "Leave the Door Open." Telling the story of a loved significant other who is always able to come back through the door, since it will be left open. This is by far the most popular song on their album and for good reason. Its pop-funk rhythms are easy to sing and enjoy anywhere.
"Fly as Me" includes more of a rap feel. Paak starts the song by rapping his way into a girl's heart, claiming that being with either him or Mars would be a lucky opportunity. 
Collins is featured as a narrator throughout the song "After Last Night." Similar to its previous rap partner,"Fly as Me," "After Last Night" has a similar vibe, with a more desperate approach to get with a woman from the night before.
One of the most meaningful songs in Silk Sonic's album is definitely "Put on a Smile."
From listening to this song, there is no doubt behind the emotion that Mars and Paak had while writing and performing this piece. "Put on a Smile" is a slow ballad, contrasting the prior upbeat tunes, that portrays someone they are not because of the need for a significant other.
"Put on a Smile" stands out with its slower rhythms and a mixture of extreme legato and staccato notes.
Songs featured in this album also include "777," "Skate," "Blast Off," and "Smokin' Out the Window." All though groovy, note that there are possible triggering references such as drug usage, gambling, and eroticism.
Part of music includes emotions of the rainbow, and this album covers them all.
With the same release date, Nov. 12, as "Red (Taylor's Version)" by Taylor Swift, there is undoubtable competition; however, with the differences between artists, Silk Sonic's album "An Evening with Silk Sonic" is holding its ground.
With the creation of Silk Sonic and their first album, fans can't wait to see what they come up with next.