"Red (Taylor's Version)" revives old fan favorites
Singer remains relevant with her childhood staple albums coming back with a modern feel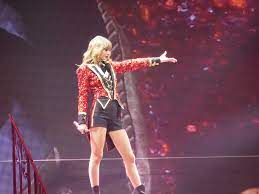 I watch the clock in the upper left corner of my phone turn 11 p.m. and I refresh my Spotify. Everything freezes, the sole amount of people logging on to listen practically shuts Spotify down. I power off my phone frantically and wait for the white apple to pop back on my screen to log back in.
Finally Spotify opens and I see it, the long awaited "Red (Taylor's Version)." I squeal and aggressively press play. The first hit of the drum in "State Of Grace (Taylor's Version)" makes me sit up, eyes wide. I have never been so excited. Here we go.
While much of the album was very similar to the original, there were many small and large differences that fans were excited for. The smaller ones being her laugh at the end of "Stay Stay Stay (Taylor's Version)," Ed Sheeran joining Swift on "Everything has Changed (Taylors Version)," and the alteration of the production in "Girl At Home (Taylor's Version)," making it into more of a pop song.
The more drastic changes included the 10 additional songs on the re-recorded album, the inclusion of more singers such as Phoebe Bridgers and Chris Stapleton, and the 10-minute version of "All Too Well."
"All Too Well" has been designated Swift's best song by many fans and credible websites. So, people were overjoyed when they heard that they would be hearing the original, uncut version. Following the release of the song and album, a short film to the ten minute song was presented to the public through YouTube, featuring "Stranger Things" star Sadie Sink and "Teen Wolf" actor Dylan O'Brien.
Similar to her past albums, there are many hidden meanings behind all of her lyrics and visuals in the songs and music videos. Many of the lyrics are also targeted at certain people. I recommend listening to try and find all of those little meanings. Even if listeners cannot understand what the lyrics mean to Swift, every lyric can have a different meaning for each listener.
One cannot talk about "Red (Taylor's Version)" without mentioning Jake Gyllenhaal. So, there it is. I did it.
Fans predict that Swift's next re-release will be the album "Speak Now (Taylor's Version)" based on some Easter eggs left in a Tweet, something that Swift does frequently.
"It never would have been possible to go back & remake my previous work, uncovering lost art & forgotten gems along the way if you hadn't emboldened me. Red is about to be mine again, but it has always been ours. Now we begin again. Red (my version) is out," Swift said.
Listeners clued into the name drops of songs from "Speak Now," "Mine," and "Ours." They are hopeful that it will be the next album re-recorded by Swift.