Sweethearts of Huntley
Huntley hosts a successful Sweetheart Cheer Competition this weekend.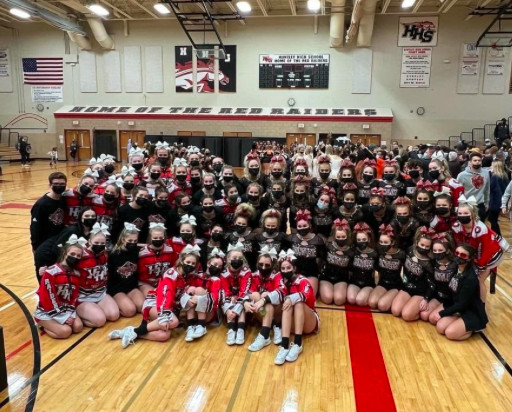 The cheerleaders at Huntley High School gathered in the East Gym on Sunday for the Sweetheart competition. The annual Sweetheart Competition had over 100 high school teams participating. It was a very exciting day for the Red Raiders. This competition was a big opportunity for Huntley's cheer teams.  
The competition had a great turnout and positive energy that was transferred to all the teams on the mat. The final product by the hosting team, Huntley, consisted of beautiful heart decorations all throughout the halls to take pictures. 
Crowds of fans filled the gym waiting for their cheerleader to perform. Excitement displayed across their faces as they were ready to watch all of the different teams and what they have been training for. 
The weekend was all set with all of Huntley High School decorated and arranged for fans and athletes.
 "As a spectator and a student at Huntley High School, it was really fascinating to see other cheer teams and parents enjoy Huntley's cafeteria and the commons area. The competition was unique because all of the teams that came from around Illinois had a great performance," junior Jake Hansen said. 
A huge part of this competition was Huntley having the opportunity to compete at their school.
 "I love competing at home because Huntley is where we practice, work, and go to school. Being able to compete in the gym made the energy so high, everyone was cheering, and it felt like everything just fell into place," junior Amanda Oliver said. 
The unique experience of these cheerleaders created a great atmosphere and tons of memories for all. 
"It was a lot of fun seeing the athletes compete at our school. It is always exciting being able to compete in front of a home crowd because it takes away their nerves and they get to go out there and have fun," Cheer Coach Miranda Hansen said.
Throughout the day, the Huntley cheerleaders performed and brought teams to their rooms, escorting them to warm ups, and supporting them on the mat. Many teams expressed their love for Huntley's sportsmanship.
 "My favorite part of the competition was staying with the teams for a long period of time and supporting them while they competed," junior Talia Guarino said. 
When the HHS cheerleaders took the floor the energy was unmatched and the support from friends and family brought the whole routine together. Wrapping up the season for both JV teams, they performed beautifully with amazing energy and ended their season with great growth since the first competition. 
"These athletes put in a lot of work and their hard work paid off each time they stepped on the mat. These teams ended their season on a high note and they should all be proud of themselves," Miranda Hansen said.
Overall, the hosting of Sweetheart was incredible and Huntley received lots of positive feedback for their hard work and dedication to putting this annual competition together. 
"There is a lot that goes into hosting such as making sure each school has a classroom to get ready in and ordering food for all the judges, coaches, and our cheerleaders. As well as setting up for the competition all while still practicing for the competition the week leading up to it," Miranda Hansen said. 
Seeing all of the amazingly talented teams throughout the day was incredible, this competition highlighted these teams strengths and was a fun time for all.