Huntley's Harmonies: Episode 2
Join Prianca as she introduces us to trombone player Angie Sadowski.
Leave a Comment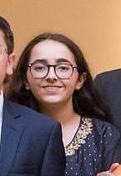 Prianca Waters
Prianca Waters is a sophomore and a first-year staff writer for the Voice. She bowls for the girls bowling team and does marching band. Her favorite subject is math and outside of school she reads, does puzzles, and participates in a bowling league with her brothers.