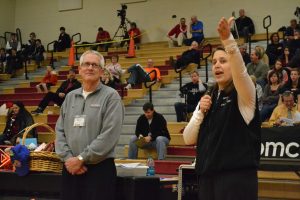 Athletic Director Bruce Blumer's room is filled with plenty of things to see. Look to the right and you see photos of various Huntley High School sports teams over the years. Look to the left and you will see various memoirs he has accumulated over his 38 years in the field of education. Look straight forward and you see a man who has announced that he is retiring at the end of the year.
"It was time," said Blumer, who is currently in his eleventh and final year with Huntley.
Blumer started his teaching career in 1974 at Norwood School in Peoria as a science teacher. He then moved on to teach at Blue Ridge High School in Farmer City, Il., as a health, physical education, and general science teacher. He also served as an athletic director at Blue Ridge and a basketball, baseball and track coach at both of the schools.
Blumer, who turns 60 in April, has overseen the scheduling and organization of Huntley athletics since the start of the century. He has enjoyed his occupation as he aspired to be an athletic director since he was young.
"When I was a young kid, I knew I wanted to get into teaching and coaching," said Blumer. "I think the organizational aspect of the administration is what got me there, plus my interest in sports."
Blumer has made plenty of changes during his time with Huntley, such as adding different sports teams and levels of teams for student-athletes to participate on.
"A lot of the changes that have occurred in my tenure here have occurred as a result of our increasing growth," said Blumer.
Look to the left of Blumer's desk and there is bulletin board hanging on the wall. Tacked on the bulletin board are about 15 inspirational quotes, each one with its own meaning.
The Law of Influence: The true measure of leadership is influence. Nothing more, nothing less. –John C. Maxwell.
"I guess it says a lot," said Blumer. "If you have influence over people, that tends to be a good leadership quality because if you're influencing them, then they're responding to what you have to say."
Better to keep your mouth shut and appear stupid than to open it and remove all doubt. – Mark Twain
"Have there been times in my life where I wish I hadn't said anything?" Blumer joked as he discusses his favorite of the quotes.
Although Blumer will not make any decisions about his successor, Assistant Athletic Director Michelle Jakubowski has his support.
"She obviously would be an outstanding candidate for this position," said Blumer, who has been working with her for the past three years. "The transition would be smooth. If I had a recommendation, she would definitely be it."
Look over Blumer's right shoulder as he sits at his desk and you will see different photos he keeps of his family. Having to raise two sons has taught him lessons that he was carried on into his office.
"I think that as I grew older and had children of my own I think I developed an understanding that the position I was in was that you're dealing with somebody's kids," said Blumer. "Something that I try to stress to our coaches is that if you want respect, you need to give it."
Now that Blumer is retiring in four months, he is eager to spend more time with the ones closest to him.
"I think [that I am looking forward to spending more time with family] particularly that I we have two grandchildren and that they are in the area," said Blumer. "So that'll be big."