The Kalas Clown
Math teacher John Kalas stands with his arms folded at the front of his class. While most are either shuffling papers or shuffling into the class, Kalas is ready to begin.
His jaw drops dramatically at the usually tardy students and he points with his hands at the bell work on the board.
"Let's go people, these math problems aren't going to solve themselves," Kalas says at the start of class.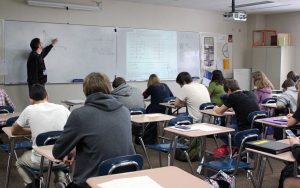 "What do you have there on your desk? Because I know it's not math," Kalas says to a student with a water bottle on their desk.
Some students snicker, others bury their laugher in their hands. Some don't even know how to react.
Then along comes the innocent student who makes a silly error, and Kalas will sarcastically respond with, "Are you on medication?"
Laughter erupts from the students. They secretly love watching their classmate get ripped on.
Kalas says he just "does what he does" when it comes to his humor. Even if that means playfully involving the students as the butt of his jokes.
Rather than talking about math in a monotonous tone, he peppers his lessons with his goofiness.
"For those of you who actually take notes, this is your cue to take out your notebooks. . ."
He adds sarcastic outbursts that startle the students like, "O TE MATO!" (Spanish for, "or I'll kill you").
He smiles wryly when he sees he has their full attention this time.
"I'm not trying to be funny. Oh well, I have no pride."
And he knows, that after 20 years of teaching that the simplest way to teach sometimes involves a little humor. In the end, the student learns without even realizing it.
As the dismissing bell rings, Kalas says as students file out, "do the math or don't, if you don't, it will be utterly disgraceful.