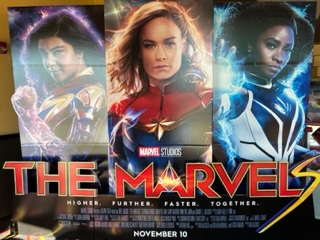 The lights begin to dim, the audience is sitting in red leather seats waiting for Marvel's opening theme song to begin. One hour and 45 minutes passed, and fans got up from their seats with unhappy looks on their faces. "The Marvels" movie contained bad acting, giving no information about the villain, unnecessary characters, the plot line was jumping around from scene to scene, but it did have some good family moments (if that makes anything better). 
The movie's main characters consisted of "The Marvels" who are Captain Marvel, whose real name is Carol Danvers, Monica Rambeau, and Ms. Marvel, her real name is Kamala Khan. In the beginning, they are all on their own missions but then they start teleporting to where each other was and start switching places. Later, the audience finds out that they can access each other's magic because they have light energy as their superpower. 
The villain in "Marvels" is Dar-Benn, her planet is dying and she is trying to bring it back to life but she is taking elements from other planets and bringing them into her own, which is creating time rips. Later in the movie, it shows a flashback to Carol destroying their planet which causes Dar-Benn to want to kill Carol. Der-Benn also wants the other bracelet that Kamala is wearing to make her more powerful. Dar-Benn created the story to be more interesting because she is involved with the Marvels, which helps them meet each other and become a team. 
"The Marvels" movie was interesting, to say the least. There were a bunch of unnecessary characters and unnecessary scenes, which were just to confuse the plot and make the time longer. For example, Nick Fury had no point in being in the movie whatsoever and there was a scene with alien cats that would eat people, I was confused out of my mind. 
Even though this movie did have some ups and downs, it showed amazing character development within the film. One example is Monica and Carol, they have not talked in years (since the blimp) but then they come back together in this film and develop their relationship. "The Marvels" also has amazing family moments within the film, during the movie Kamala's family always checks up on her to make sure she is okay and her wellbeing is being looked after when she is away on missions. 
In conclusion, "The Marvels" would not be a movie I would see again or recommend. If you want to watch the film make sure to watch prior Marvel movies and shows beforehand, but I would not recommend it just for your own well-being.