Boys soccer shuts out Cary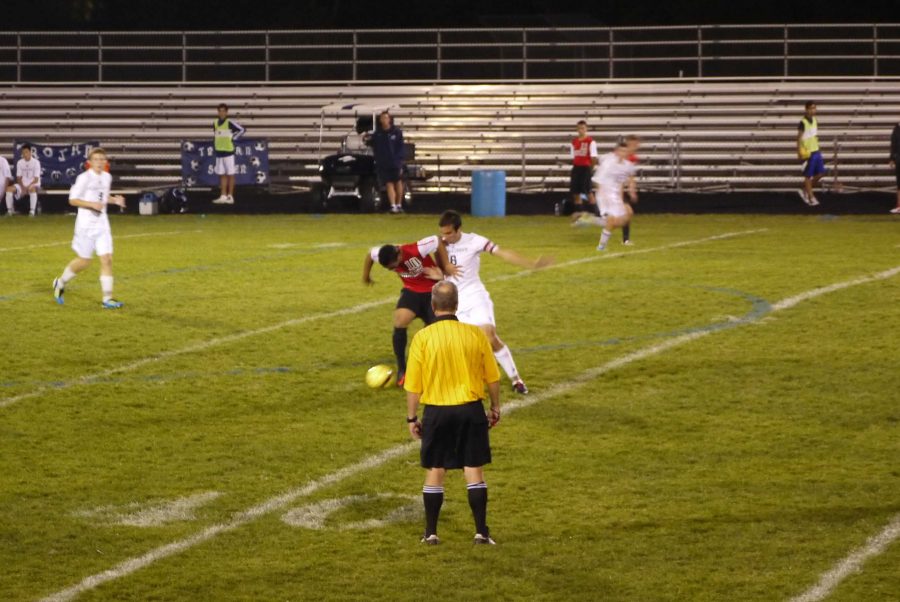 The Huntley varsity boys soccer team defeated Cary Grove 3-0 on Thursday night at Al Boer field in Cary. Huntley improved to 14-1-1 overall and 3-0 in the Fox Valley Conference with the victory. With the loss Cary dropped to 10-5 on the season.
Huntley controlled the game, keeping constant possession of the ball and allowing Cary Grove very few shot opportunities.
After the game head coach Kris Grabner praised his defense. "Our defense did a great job. I think that was the story tonight, the way our defense played."
Even though Huntley won 3-0, Grabner still felt his team could improve.
"It was a little sloppy at times," said Grabner. "Overall I thought it was pretty good. Our attack was not as fluid as it usually is, I think we have been better from that standpoint."
Niko Mihalopoulos led Huntley with two goals on the night. He put the Raiders up 2-0 with 9 minutes left in the first half, scoring a beautiful turnaround shot from inside the penalty area beating the goalie at the far right post on the assist from midfielder Reyman Solis.
Defender Jakub Rys also scored a goal during the game.
With 4:49 left in the game, the match was called due to lightning in the area. The wet conditions had an effect on the game causing players to slide and lose the ball.
"The moisture had a lot of people sliding and falling. It made the game a little sloppy," said Grabner.
Grabner said that the win over Cary Grove was very important.
"I think anytime you play Cary Grove and win, it's a big win. They are very good in every sport and I have a ton of respect for them so to go out and beat them like this is a good thing. It gets us a step closer to the  conference championship."
The team's next game is Saturday v.s. Elgin at home.