Most people can't fathom why anyone would want to run for fun. Other people, like Rebecca Cords, can't imagine having a different hobby.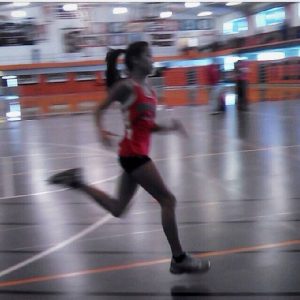 Rebecca's track career started in elementary school, when she excelled at running the mile during gym class and because of it, her fifth grade gym teacher recommended she join the track team next year.
"It was the best advice I've ever taken from someone," said Cords.
Rebecca had tried all the other girls sports available at school and was unsuccessful in every one, until she found track. She finally found something that she was good at, somewhere she belonged.
To her, there is nothing more satisfying than that one chance to see all her hard work pay off or the weightless feeling when she is in the air during a long jump.
Things went awry in her sophomore year. The track team began lifting weights for the pre-season, and it was while Rebecca was doing squats that she noticed her back began to hurt. Her coaches thought it was due to her form, but Rebecca got an MRI and found a curve in her spine.
"Hearing the doctor say I couldn't run for up to weeks or months broke my heart," said Cords. "I didn't want to believe any of it."
It was miserable sitting on the sidelines while all of her friends were training and practicing, but Rebecca went to every practice anyway. Even though she could not participate, just being there with the team was enough to give her comfort.
"Sophomore year was a year I learned a lot about myself," said Cords. "It's definitely a year I proved to myself how strong I have to be for me."
The pain and hardship is still there, but Rebecca has gotten back into running and does not mean to let anything stop her this time.