Despite the lengthy commute, long waiting time, and prices that lean more towards the expensive side, this restaurant is definitely the place to go for seafood lovers looking to spice up their Friday night dinners with some flavors from the deep South.
Pappadeaux Seafood Kitchen, located about an hour away in Westmont, is a New Orleans-style restaurant that serves authentic Cajun cooking with a twist. The festiveness of Mardi Gras and Jazz music in the air makes you feel like you are actually in the French Quarter.
Given the high cost of the food, I would suggest not making Pappas your weekly family eat-out, unless you have the money for it. My family and I typically go for special occasions, when we feel like celebrating and having a good time.
And of course, Pappas is the perfect place for just that. The whole restaurant is like one big party, with friends having a few drinks at the bar and families clapping to the rhythm of the jazz quartet.
After we picked up our menus, I realized that we had been staring at it with confused looks on our faces for about 15 minutes. So naturally, I started looking around at other people's food to see what looks the most appetizing before I decided on what to order. The only problem was that everything looked good.
The menu included several authentic Louisiana dishes. Gumbo & Po Boy, Jambalaya,  Etoufee, and various dishes involving fried alligator were just a few items that us midwesterners are not familiar with.
My family chose to be more conservative and ordered food they were familiar with, while I, feeling a little more liberal than usual, decided to try something new and hope my digestive system does not punish me later.
I ordered the Crispy Fried Alligator as an appetizer. It was not love at first bight for me and the alligator, but the "meat" was so tender and the Creole dipping sauce gave it a nice kick, that it was still enjoyable.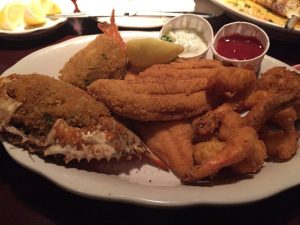 We were recommended by our waitress Janet to try The Crawfish Etouffee. The fancy French name was honestly enough for me to accept the recommendation and try it, otherwise I have never heard of etouffee before that night.
So Etouffee is basically simmered crawfish in a light gravy made by a popular Cajun cooking method called smothering. It's served over rice and comes with a huge portion of crispy fried crawfish.
Leaving the restaurant, I was glad that I had the opportunity to experience a Mardi Gras-style party with Cajun cooking at the "French Quarter" of Westmont.